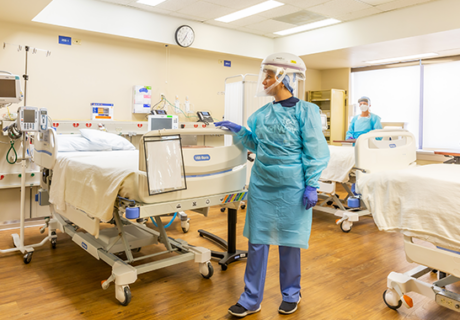 HCD 10: Karin Henderson, clinician
As a leader in the field of nursing and healthcare management for 20 years, Karin Henderson has served as the system leader of the Cone Health organization of five hospitals, responsible for more than $300 million in capital construction projects. On February 23, 2020, Cone Health closed its maternity hospital and transferred services to a new bed tower. As the COVID-19 pandemic was in its early stages, Henderson was responsible for evaluating vacant hospitals to determine whether it was possible to transform its medical/surgical level into an intensive care environment to treat COVID-19 patients.
She led a team of engineers, infection prevention and safety practitioners, lean experts, and clinicians to determine how to change structures, air handling devices and ventilation systems, and equipment to meet potential patient needs. Key aspects of the building's function were confirmed, such as the electrical load required to support dozens of adult ventilators and HEPA filters, oxygen flow capacity, and HVAC to achieve negative pressure.
This effort resulted in the 200,000 square foot campus at the time becoming the only field hospital in North Carolina. Henderson assembled a team of 80 people to guide the project, using evidence-based design, infection prevention standards, and experience from the Ebola epidemic to guide the implementation of the solution. Design is the key to ensuring the safety of employees during the provision of care.
For example, Henderson led her team to adopt lean concepts to allow patients, equipment, and staff to move in a contaminated environment to optimize the placement of equipment and supplies. Temporary walls and tape areas designate contaminated and safe areas. Evidence-based design is also used to reduce contact points in a contaminated environment and increase staff time at the bedside. In addition, a hospice suite has been added as a space where families can safely visit their loved ones and say goodbye.
This field hospital was built in just 28 days and was used to treat more than 2,500 patients from April to March 2020. Henderson and her team will then apply the knowledge they have learned to open three pandemic wards for COVID-19 treatment on other Cone Health campuses and establish an infectious disease ward on the main campus.
These spaces are now the destination care areas during this wave of pandemics, as well as a "laboratory environment" where research can be done on how to best provide care for infectious patients.
What do you like best about your job?
Work to promote innovation and support the health system of paradigm change risks. Usually, construction is completely led by construction managers and project managers; our organization supports a new model of appointing a nurse with deep clinical and construction experience to lead the design and construction. I like to use my clinical experience and work with frontline employees who provide information on the design based on evidence.
What industry challenges do you hope to solve?
By expanding the use of integrated lean construction and evidence-based design, reshaping traditional project delivery practices, and providing the best value for the construction of patient care environments.
Who inspired you?
I am always humbled by the wisdom and innovation at the bedside. The unique insights and knowledge of frontline employees are well documented in the literature. When we provide our employees with evidence and data and truly share the challenges of healthcare with them, we have achieved beyond our imagination.
What do you expect to be the next major trend in healthcare design?
Prepare for a pandemic when resources and funds continue to be scarce. There are also more and more countries that realize the value of lean construction methods, and all participants equally share the risks and rewards of the project.
What have you learned in the past year?
Doing the impossible is a pleasure.