Shifty's Seasoning is expanding its operations and is targeting $1.1 million
Shifty's Seasoning was born from a father and son duo's passion to make a difference in the world through their love of food. Inspired by his desire to share his passion for delicious food, Shifty's goal is to create simply flavorful dishes without the addition of unnecessary ingredients. Rather than burdening dishes with preservatives and artificial elements, Shifty developed seasonings that added flavor and sustainably sourced ingredients without sacrificing quality.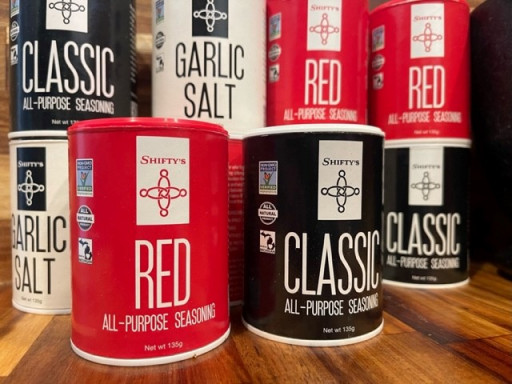 Shifty's Trifecta
Shifty's Classic All Purpose Seasoning, Shifty's Red All Purpose Seasoning, Shifty's Garlic Salt

MILLINGTON, Mich., Jan. 26, 2023 (Newswire.com)
–
Shifty's Seasoning, a US-based company that manufactures a line of all-natural seasoning products, is looking to raise $1.1 million in qualifying investor funding to support its expansion plans. The company has seen significant growth over the past year, with revenue up 105%, and they expect that trend to continue as they expand their operations. This includes utilizing larger facilities that can handle increased demand and faster shipping times to consumers worldwide.
US-based Shifty's Seasoning is seeking to raise $1.1 million in capital to expand its operations. With 25% of the company ready for the right investor(s), this will end up with the most qualified and "most experienced" investor(s).
Zeke Shifflett, President of Shifty's Seasoning, said in a recent interview, "We have all the tools and team members to take this to the next level and compete for a percentage of this industry's market share. We're not the largest operation, but I'm confident we can maintain our efficiency and revenue growth. We have been waiting for the right moment and that moment is now."
The company has grown at a rate of 105% over the past year with no sign of stopping anytime soon due to expansions that include larger facilities and faster global shipping times to meet consumer demands. Shiftys…
source_link https://www.digitaljournal.com/pr/shiftys-seasoning-is-expanding-operations-and-seeks-1-1-million-in-qualified-investor-funding