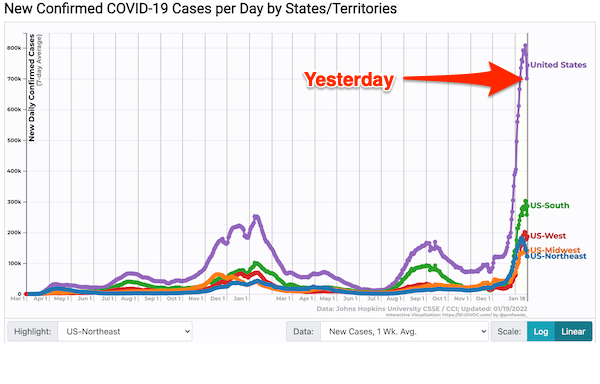 2:00PM Water Cooler 1/19/2022 | naked capitalism
By Lambert Strether of Corrente
Patient readers, extra rations today because I was on holiday yesterday. Enjoy –lambert
Bird Song of the Day
* * *
Politics
"But what is government itself, but the greatest of all reflections on human nature?" –James Madison, Federalist 51
"They had learned nothing, and forgotten nothing." –Charles Maurice de Talleyrand-Périgord
"When the going gets weird, the weird turn pro." –Hunter Thompson
Biden Adminstration
I asked readers for the link to make public comments on FTC merger enforcement. Here it is:

Thanks to alert readers IMOR, Stephen V, Steeeve, and Late Introvert. Have at it!

* * *

"Biden plans giveaway of 400M masks as Omicron surges" [Politico]. "The 400 million newly available masks will be non-surgical N95s that are sourced from the government's Strategic National Stockpile, as part of an effort to ensure Americans can access the more-protective masks during a record surge of Covid-19 cases…. There are more than 750 million N95 masks in the Strategic National Stockpile, the White House official said, with ample supply for health providers and the public available for purchase." • So how long have the N95s been sitting in the stockpile? What were they waiting for? A pandemic?

"Biden Misread the Supreme Court's Ruling Against the OSHA Vaccine Rule" [Simon Lazarus, The New Republic]. "In last week's case, the Roberts-Kavanaugh-Barrett opinion did not question the constitutional validity of the OSH Act's broad grant of authority for OSHA to enact emergency regulations to combat 'grave [workplace] danger' and 'new hazards.' Moreover, the court's opinion indicated that OSHA could constitutionally implement that authority with regulatory approaches more precisely targeted than the vaccination rule at issue." For example, Barret cites meatpacking plants. More: "Thus the language in the opinion would seem to countenance a new OSHA vaccine-or-test-and-mask emergency rule targeted to particular workplace-specific risks. Presumably, that tack could wind up covering a significant chunk of the nation's workers. Indeed, the day after the decision, President Obama's OSHA Administrator David Michaels recommended just such a revamp, to "ensure it fits the Court's suggestion that it be risk-based" but "cover all workers in higher risk jobs, not only those employed by large employers"—in that respect actually reaching more broadly than the existing standard spurned by the court…. [The Biden Administration should] take yes for an answer and take due advantage. That means: re-up the OSHA rule, embracing Roberts's and Barrett's call for a targeted, risk-based approach." • More on a crazed Gorsuch legal theory and the role of the court in the separation of powers. Worth a read

"This Presidency Isn't Turning Out as Planned" [Ezra Klein, New York Times]. "The conversations I have with the Biden administration's economists are very different from the conversations I had with the Obama administration's economists, even when they're the same people. Now the discussion is all about what the economy can produce and how fast it can be shipped. They need companies to make more goods and make them faster. They need more chips so there can be more cars and computers. They need ports to clear more shipments and Pfizer to make more antiviral pills and shipping companies to hire more truckers and schools to upgrade their ventilation systems. Some of these problems reflect the Biden administration's successes. (Read my colleague Paul Krugman for more on this.) For all the talk of supply chain crises, many of the delays and shortages reflect unexpectedly strong demand, not a pandemic-induced breakdown in production. Supply chains are built to produce the goods that companies think will be consumed in the future. Expectations were off for 2021, in part because forecasters thought demand would slacken as people lost work and wages, in part because the fiscal response was massively larger than anyone anticipated and in part because when people couldn't go out for meals and movies, they bought things instead. Overall spending is more or less on its prepandemic trend, but the composition of spending has changed: Americans purchased 18 percent more physical goods in September 2021 than in February 2020. Now the Biden administration fears that its supply problems will wipe out its demand successes.

"New year brings more liberated Joe Biden" [The Hill]. "Sources close to the White House say there's no coincidence that Biden has sharpened his rhetoric as midterms elections draw closer and with so much at stake. They expect Biden to stick to the heightened and unshackled tone as he frames the elections around an us-or-them choice." • "Unshackled" is not the word I'd use for Biden's last Covid speech. Maybe he'll do better in today's presser (4:00PM EDT). On the presser:

This is how Biden should come out for his news conference today. It's the only thing American voters respond to, apparently pic.twitter.com/z7lqZf33O7

— Will Bunch (@Will_Bunch) January 19, 2022

I do wish liberal Democrats would stop hating on voters. What sense does it make?

"Madame Tussauds unveils new Biden and Harris figures" [The Hill]. • Make up your own jokes!
Democrats en Déshabillé
I have moved my standing remarks on the Democrat Party ("the Democrat Party is a rotting corpse that can't bury itself") to a separate, back-dated post, to which I will periodically add material, summarizing the addition here in a "live" Water Cooler. (Hopefully, some Bourdieu.) It turns out that defining the Democrat Party is, in fact, a hard problem. I do think the paragraph that follows is on point all the way back to 2016, if not before:

The Democrat Party is the political expression of the class power of PMC, their base (lucidly explained by Thomas Frank in Listen, Liberal!). ; if the Democrat Party did not exist, the PMC would have to invent it. . ("PMC" modulo "class expatriates," of course.) Second, all the working parts of the Party reinforce each other. Leave aside characterizing the relationships between elements of the Party (ka-ching, but not entirely) those elements comprise a network — a Flex Net? An iron octagon? — of funders, vendors, apparatchiks, electeds, NGOs, and miscellaneous mercenaries, with assets in the press and the intelligence community.

Note, of course, that the class power of the PMC both expresses and is limited by other classes; oligarchs and American gentry (see 'industrial model' of Ferguson, Jorgensen, and Jie) and the working class spring to mind. Suck up, kick down.

* * *

"Abrams treads carefully in relationship with Biden" [The Hill]. "Still, her absence from Tuesday's speech came at a particularly trying moment for Biden…. There are also signs that his standing is diminishing among Black voters, a reliably Democratic constituency that helped propel Biden's 2020 victory in Georgia and one that Abrams will need to carry handily this year if she hopes to win the governor's mansion. A poll released this week by Democratic firm HIT Strategies found that Biden's net approval among Black voters had dropped to +54 percent in December, down from a net +76 percent in June. At the same time, a coalition of Georgia voting rights groups with ties to Abrams skipped Biden's speech on Tuesday out of frustration with a lack of progress on federal voting rights legislation. While voting rights advocates later praised Biden's remarks, including his call to change Senate rules to pass such legislation, the boycott underscored the simmering tensions between the White House and the activists who helped elevate both Biden and Abrams." • And who is HIT Strategies, you ask? "HIT is the leading Millennial & Minority-owned public opinion research firm in Washington, DC that approaches research different [sic] than most conventional research firms." So, I would guess that HIT's poll, albeit directionally correct, is in essence a brochure.
2022
Time to break out the counter, I guess:

* * *

Party identification:

Gallup: In 2021, Republicans went from a 9 point deficit in party identification to a 5 point lead.

If that were to hold into the 2022 midterms it would be a seismic victory on election night – this is the biggest advantage for Republicans since the 1994 "Republican Revolution." pic.twitter.com/jQQGEGAcJT

— Josh Jordan (@NumbersMuncher) January 17, 2022

"Dem candidates seek votes in 'factory towns'" [Axios]. "A set of Senate Democratic candidates in swing states is actively courting voters in regions that suffered the steepest manufacturing losses… That could be as much as 40% of the electorate in the industrial heartland of the Midwest, according to a report from the progressive group 21st Century Democrats…. But, but, but: Many of these same voters have historically fallen into a category of what election experts call "low-propensity voters" — less likely to vote and even more unlikely to vote in a midterm election."

"Reconstruction-Era Law Could Keep Trump Off Presidential Ballot In 6 Southern States" [S.V. Date, HuffPo]. "Should former President Donald Trump run for the White House again, an obscure Reconstruction-era law could keep him off the ballot in six southern states, including North Carolina, Georgia and Florida, because of his incitement of the Jan. 6 insurrection. The third section of the 14th Amendment prohibits people who swore to defend the Constitution, but who subsequently took part in an insurrection against the United States, from holding state or federal office. Other language in that post-Civil War amendment, though, makes many experts believe that only Congress can enforce the ban, which means Senate Republicans could block any such action. But the 1868 law that readmitted the six states put the burden on them to keep those who have been involved in insurrections from seeking office — potentially making it considerably easier to keep Trump off their primary and general election ballots." • Well, I guess this explains why liberal Democrats just had to keep using the word "insurrection" (well before the evidence of the 1/6 Commission is in, if evidence there be.) The mind reels at the possibilities if they go through with this. We occasionally chatter about setting up parallel voting systems. Well, Republicans are more serious about their politics. They might actually do it. What then?
2024
"Trump dogs "dull" DeSantis ahead of potential 2024 matchup" [Axios]. "Donald Trump is trashing Ron DeSantis in private as an ingrate with a 'dull personality' and no realistic chance of beating him in a potential 2024 showdown, according to sources who've recently talked to the former president about the Florida governor…. A second source who's discussed DeSantis with Trump said the reason for the former president's irritation with the popular governor is "that Ron DeSantis won't say he won't run [in 2024]. … The others have stated pretty clearly they won't challenge him.'" • Florida readers, does DeSantis in fact have a dull personality? Back in the day, I misjudged Scott Walker's appeal because I thought successfully stomping Democrats would be enough; it wasn't. Of course, if you want personality, it's hard to outdo Mr. Personality Himself, America's Definite Article: Donald Trump.
Clinton Legacy
"UAE Adviser Illegally Funneled Foreign Cash Into Hillary Clinton'S 2016 Campaign" [The Intercept]. "George Nader, an American adviser to the government of the United Arab Emirates, convicted sex offender, and frequent visitor to the White House during President Donald Trump's first year in office, has pleaded guilty for his role in helping the UAE pump millions of dollars in illegal campaign contributions into the U.S. political system during the 2016 presidential election, according to documents submitted in federal court last month. Federal prosecutors disclosed in a December sentencing memo that Nader had agreed months earlier to plead guilty to a single count of felony conspiracy to defraud the U.S. government by funneling millions in donations to Hillary Clinton's campaign and concealing the funds' foreign origin. Nader's plea has not been previously reported." • The headline is unfair; Nader worked both side of the street. And Democrat apparatchiks took UAE money too.

"The Memo: 2024 chatter reveals Democratic nervousness" [The Hill]. Weasels to the slaughter. "[Strategist Joe Trippi, who has worked on presidential campaigns for Democrats for several decades] pointed out that some millstones weighing Biden down now could easily be lifted before 2024 — COVID-19 and inflation, in particular. If the pandemic is a receding memory, the economy is booming and no other crises intervene, he said Biden would be in prime position for reelection and "there might be a whole bunch of Democrats hoping and praying that he doesn't run, thinking, 'I want a crack at this.' But conversely, if inflation is still elevated or the overall economy had soured, Democrats could be doomed whomever they put up. In that scenario, 'people are really going to say, 'Well, OK, but Hillary might run'?' Trippi asked with a derisive laugh. 'There's no friggin' way Hillary will run! That's stupid.'" • Waiting for the rumors that Clinton would accept a draft…
Trump Legacy
"What Is Trumpism?" [John Ganz, Unpopular Front]. A Gramscian analysis. From the conclusion: "It's obvious that Trump does not have all the organizational depth and breadth of the classical fascisms, nor is he likely to generate them. Beyond his own limitations as a leader, the way politics and society works in the 21st century is not conducive to the kind of mass organization building of the 20th century. Trump also could not break the logjams and immobilism in American politics with his charisma and power alone, but nonetheless he retains a significant number of supporters who would apparently like him to keep trying. He did largely rely on conservative, constitutional means. But he did attempt more radical means like the constant propaganda offensive against the legitimacy of the election and a putsch-like attempt to overturn the election, even if it was a failure. Failure thought it may have been, it did not end his political career, like General Boulanger's abortive coup of 1889 did. I still don't think Trump is likely to succeed. The inchoate Caesarisms of the Third Republic failed because they did could not find a single "providential man" to focus their energies on. The only available "Caesar" in the latest American case might be too lazy or too much of an idiot. But I think a fair assessment has to acknowledge Trump's serious weaknesses, but also recognize his staying power and continued political relevance, even after taking some quite desperate gambles. Meanwhile, the more conventional conservative and progressive forces seem also to be struggling to solve the country's serious crises. As for "Trumpism" as a category of politics apart from Trump the individual, I think we still have to observe carefully whether it is a Caesarism stillborn or still "in gestation." In aid of those observations, the cases of fascism will remain an important context." • Welll worth a read. I do think that people on the left have a tendency to look to Europe for models. We have the Reconstruciton South to look to; that, IMNSHO, is the place to begin.
Realignment and Legitimacy
"How the states have become "Laboratories of Autocracy" — and why it's worse than you think" (interview) [David Pepper, Salon]. "I've been fighting the voting rights battle in Ohio for a number of years. The worst is still the purging of voters, but to have a secretary of state intentionally cause long traffic jams for the form of voting that he knew minorities and Biden voters were using, and lying over and over again about what the law actually, was such a troubling thing. And this was not your right-wing, Trump-type secretary of state. He had held himself out as more moderate. So I tell the story because you look at the traffic jams that his one-drop-box-per-county policy created, and anyone with a commonsense response would say, 'Don't ever do that again.' But in a world of 'laboratories of autocracy,' as I tell in the story, the state legislature of Ohio, seeing those jams, began pushing for bills to have traffic jams forever by making that not just a policy decision, but state law. And what do we see at the same time? States around the country looked at those traffic jams and saw the effect on — let's be clear — Black voters waiting in long lines. So now we have the same effort in other states to minimize drop boxes and to do what happened here: Put the drop boxes where people are already voting early in person, which creates the maximum congestion possible. So it's a great example of how they behave as laboratories against democracy."

"Let's Honor MLK's Birthday By Being Impotent and Embarrassing" [Jeff Maurer, I Might Be Wrong]. "My honest feeling — and here comes some of the sweet, succulent heresy that makes a Substack newsletter hum — is that the stakes here are not very high. Personally, I think Republican voter suppression tactics are shitty, but not very effective. As I've mentioned before, the evidence that low turnout helps Republicans is increasingly thin. I also think that voter ID laws are less effective than they used to be; most folks are wise to this gambit, and people who try to measure these laws' effects typically find nothing or close to nothing. I'm sure that Republicans would like to tilt the playing field in their favor; they're clearly trying to cheat. But people can try anything; you can try to teach your dog Rachmaninoff, you can try to build a time machine out of graham crackers and mud. Democrats can support ballot access without reacting to every dumb Republican trick like it's zero hour for democracy. Some people would ask: If suppression tactics aren't effective, then why are Republicans trying them? My answer is simple: State legislators are morons."

"Moralising to Impress" [The Philosophers' Magazine]. "[G]randstanding is saying something in public moral discourse because you want your audience to recognise you for being morally good. Put more succinctly, grandstanding is the use of moral talk for self-promotion…. In their search for social status, conversations among grandstanders often resemble a moral arms race, as participants vie for the position of caring most about some value, or being most outraged about some event (more on this soon, too). This happens because of a psychological phenomenon called social comparison. We tend to think of ourselves in terms of how we measure up against others. So if you think of yourself as caring deeply about some value, yet someone else says something that makes them look like they care more than you do, you have two options. You can let that person look better than you, or you can intervene and outdo them. Grandstanders take the latter option, which is why so many of our discussions about politics quickly take us to extremes." • A useful compendium; cf. Matt. 23:5.
#COVID19
Case count by United States regions:
A rebound, as backed up data gets processed. If you look at previous peaks, you'll see we've had declines, followed by rises, followed by final declines.That said, it would sure be nice if "rise like a rocket, and fall like a stick" applied, but we can't know that yet. Previous peaks — how small the early ones look now — have been roughly symmetrical on either side. But the scale of this peak, and the penetration into the population, is unprecendented. I broke down the national aggregates into regional numbers, to see if I saw a pattern:
The official narrative that "Covid is behind us," and that the pandemic will be "over by January" (Gottlieb), and "I know some people seem to not want to give up on the wonderful pandemic, but you know what? It's over" (Bill Maher) was completely exploded. What a surprise!
* * *
NOT UPDATED MWRA (Boston-area) wastewater detection: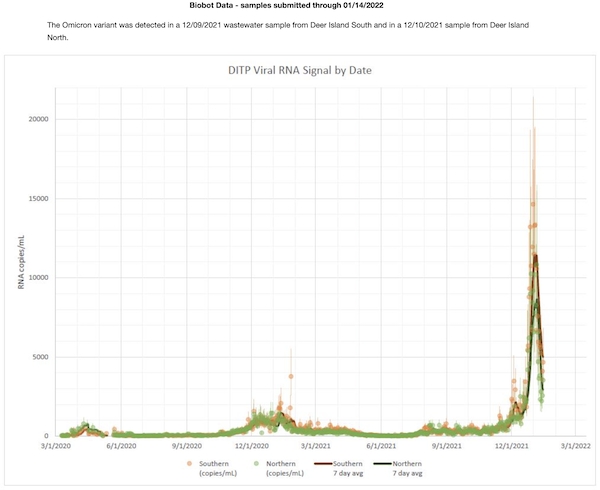 Continues encouraging.
The Massachusetts Water Resources Authority (MWRA) service area includes 43 municipalities in and around Boston, including not only multiple school systems but several large universities. Since Boston is so very education-heavy, then, I think it could be a good leading indicator for Covid spread in schools generally.
NEW Biobot wastewater detection, from January 12: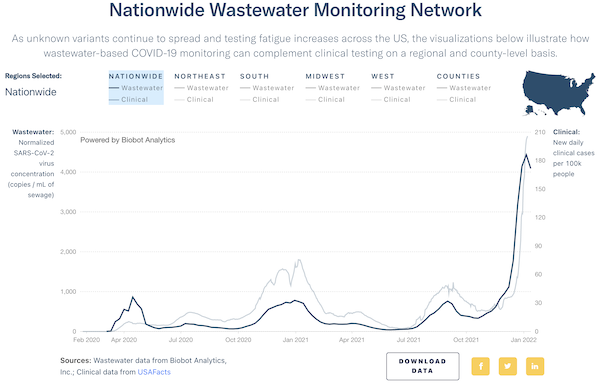 This data is representative if and only if the aggregation of wastewater treatment authorities into which Biobot has sold its technology are representative. That said, it's an indicator, and the indications are good.
From CDC Community Profile Reports (PDFs), "Rapid Riser" counties: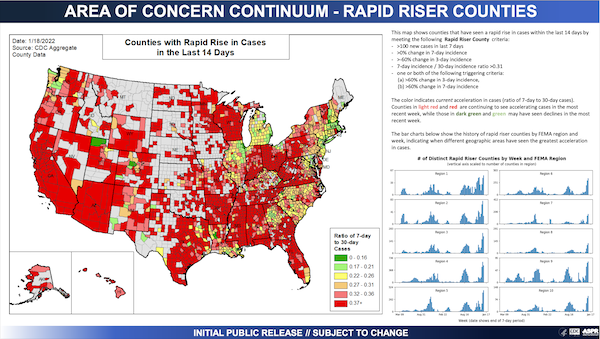 Encouraging! (Remember that these are rapid riser counties. A county that moves from red to green is not covid-free; the case count just isnt, well, rising rapidly.
The previous release: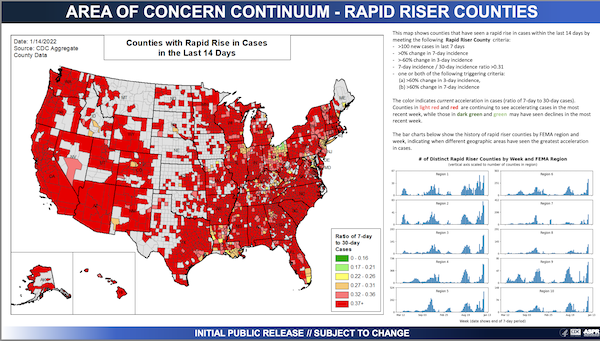 Hospitalization (CDC Community Profile):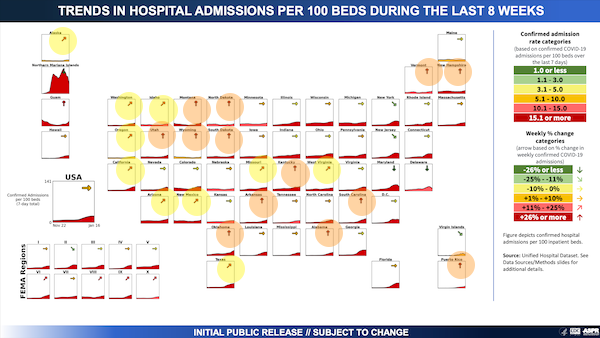 Very encouraging. (Note trend, whether up or down, is marked by the arrow, at top. Admissions are presented in the graph, at the bottom. So it's possible to have an upward trend, but from a very low baseline.)
Death rate (Our World in Data):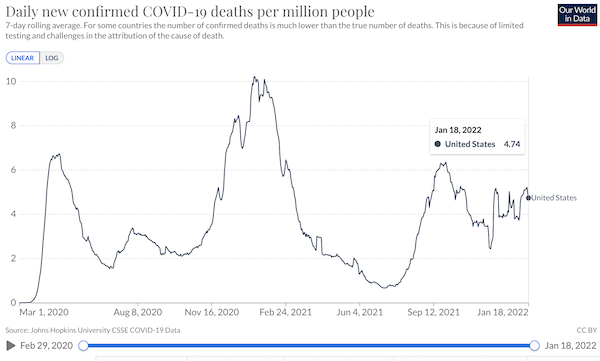 Total: 877,240 874,347.
Covid cases in top us travel destinations (Statista):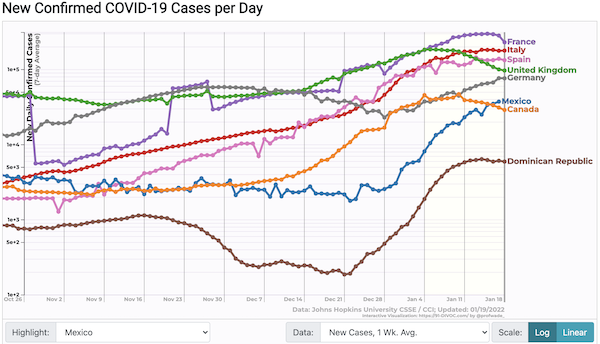 The excess deaths charts will appear weekly, on Friday.
Stats Watch
There are no official statistics of interest today.
* * *
Inflation: "Understanding Covid-flation" (excerpt) [Matthew C. Klein, The Overshoot]. "The U.S. Consumer Price Index (CPI) rose more than 7% last year—faster than in any 12-month span since the early 1980s—but most of the excess inflation can be pinned on a handful of categories that account for a small fraction of the total index. If the prices of just a few specific items had grown at their pre-pandemic pace, instead of jumping by 50% or more, inflation in 2021 would have been remarkably close to the 1995-2019 average." • See the "pricing pressure" chart in this tweet, top left:
New at THE OVERSHOOT:

Understanding Covid-flationhttps://t.co/6irk21U0SP

<– a new comprehensive decomposition of the changes in consumer prices since the pandemic began suggests that supply constraints in a handful of sectors are still the main source of the trouble pic.twitter.com/Ts6xvH8D8H

— Matthew C. Klein (@M_C_Klein) January 19, 2022
Banking: "JPMorgan plots 'astonishing' $12bn tech spend to beat fintechs" [Financial Times]. "JPMorgan Chase, the largest lender on Wall Street, said it planned to dramatically increase spending on technology and talent to fortify its competitive position, stirring investor worries about US bank earnings in 2022. As it reported record profits last year, JPMorgan stunned analysts with a forecast that expenses would increase by 8 per cent this year to around $77bn, meaning it would probably miss a key profitability target in 2022, and possibly in 2023. Part of the elevated expenses are from higher pay, with an extra $2.5bn earmarked for compensation and travel expenses. But JPMorgan also said it planned to increase new investments this year by $3.5bn, or 30 per cent, to almost $15bn. Technology spending in 2022 will hit $12bn in 2022, it said."
The Bezzle: Looks like an interesting thread:
We will be starting off 2022 with about 3,000 pages of $TSLA e-mails released by New York State which, when combined with other documents, prove that Tesla committed multiple types of fraud, lied to New York, and lied to investors.

— PlainSite (@PlainSite) January 3, 2022
Tech: "Networked sensors: ensuring digital ease in logistics" [Financial Times]. This is "partner content," hence the deck: "Among emerging technologies, the Internet of Things is already proving its value in the sector and its impact is set to grow in the near future." • Hilarity ensues….
Travel: "Airlines Step Up Hygiene to Keep Covid Out of the Air" [Bloomberg]. "These days, hygiene is the most important factor in choosing a travel company for almost 60% of Americans, according to a survey by aerospace products manufacturer Honeywell International Inc. That tracks with International Air Transport Association data showing that passengers worry about boarding planes, with 42% of them uncomfortable using lavatories and more than a third concerned about breathing recirculated cabin air…. With no global rules governing aircraft hygiene, carriers have adopted a patchwork of solutions. Korean Air Lines Co. sprays all surfaces with a cleaning fluid that it says neutralizes more than 100 bacteria and viruses. United Airlines Holdings Inc. says it wipes down high-touch areas with a disinfectant and uses electrostatic sprayers and UV light disinfection systems. The robots at Air India Express have cleaning arms that plop down into the rows to reach every nook and cranny." • Hygiene theatre. No doubt approved at board level…
* * *
Today's Fear & Greed Index: 65 Greed (previous close: 64 Greed) [CNN]. One week ago: 63 (Greed). (0 is Extreme Fear; 100 is Extreme Greed). Last updated Jan 19 at 1:24pm.
Rapture Index: Closes down one on Persia (Iran). "Iran has been less active on the world stage" [Rapture Ready]. Record High, October 10, 2016: 189. Current: 185. (Remember that bringing on the rapture is a good thing, so higher is better.)
Household Tips
"Decontaminating N95 masks for reuse" [Lawrence Livermore National Laboratory]. "Scientists at Lawrence Livermore National Laboratory (LLNL) have determined that heating N95 respirators up to 75 degrees Celsius for 30 minutes deactivates a surrogate coronavirus without compromising the device's fit and its ability to filter airborne particles. This temperature (equivalent to 167 degrees Fahrenheit) is easily achieved in hospitals and field settings allowing for the N95s to be reused once decontaminated… Previous studies have shown that humid heating for these times/temperatures will inactivate SARS-CoV-2." • I assume "field setting" could be a household. Do readers have tips on household techniques for this?
"How to Clean and Reuse an N95 Mask" [American Federation of State, County and Municipal Employees]. "A study in the New England Journal of Medicine uses a round robin rotation of masks so that each one is rested for at least 72 hours before being worn again. This relies on the widely held belief that the coronavirus should not survive more than 72 hours on an inhospitable host, like the surface of an N95 mask. The downside to this method is that you need four masks per
wearer, and that's assuming you use only a single mask each day." • They also recommend boiling. I'm not sure about that.
Groves of Academe
This wonderful story shows how a university ought to work. Worth reading in full:
Thinking about biological collections lately I'm reminded of the time that somehow at age 4, I got a personal tour of the @UCBerkeley entomology collection (Essig?) from a kind scientist (anybody know who?!). Asked my parents how on earth THAT happened, and it turns out…?

— Rebecca Varney (@RebeccaMVarney) January 17, 2022
Class Warfare
"Characterizing Wealth Inequality in Cryptocurrencies" [Blockchain Economics]. "Our analysis reports that, despite the heavy emphasis on decentralization in cryptocurrencies, the wealth distribution remains in-line with the real-world economies, with the exception of Dash. We also report that 3 of the observed cryptocurrencies (Dogecoin, ZCash, and Ethereum Classic) violate the honest majority assumption with less than 100 participants controlling over 51% wealth in the ecosystem, potentially indicating a security threat. This suggests that the free-market fundamentalism doctrine may be inadequate in countering wealth inequality within a crypto-economic context: Algorithmically driven free-market implementation of these cryptocurrencies may eventually lead to wealth inequality similar to those observed in real-world economies."
News of the Wired
"The effects of defaunation on plants' capacity to track climate change" [Science]. "Half of all plant species rely on animals to disperse their seeds. Seed dispersal interactions lost through defaunation and gained during novel community assembly influence whether plants can adapt to climate change through migration. We develop trait-based models to predict pairwise interactions and dispersal function for fleshy-fruited plants globally. Using interactions with introduced species as an observable proxy for interactions in future novel seed dispersal networks, we find strong potential to forecast their assembly and functioning. We conservatively estimate that mammal and bird defaunation has already reduced the capacity of plants to track climate change by 60% globally. This strong reduction in the ability of plants to adapt to climate change through range shifts shows a synergy between defaunation and climate change that undermines vegetation resilience."
The source of all the trouble:
Steve Wozniak. Apple I. 1976. pic.twitter.com/scOpJxOdhH

— Flashbak.com (@aflashbak) January 12, 2022
* * *
Contact information for plants: Readers, feel free to contact me at lambert [UNDERSCORE] strether [DOT] corrente [AT] yahoo [DOT] com, to (a) find out how to send me a check if you are allergic to PayPal and (b) to find out how to send me images of plants. Vegetables are fine! Fungi and coral are deemed to be honorary plants! If you want your handle to appear as a credit, please place it at the start of your mail in parentheses: (thus). Otherwise, I will anonymize by using your initials. See the previous Water Cooler (with plant) here. Today's plant (AM):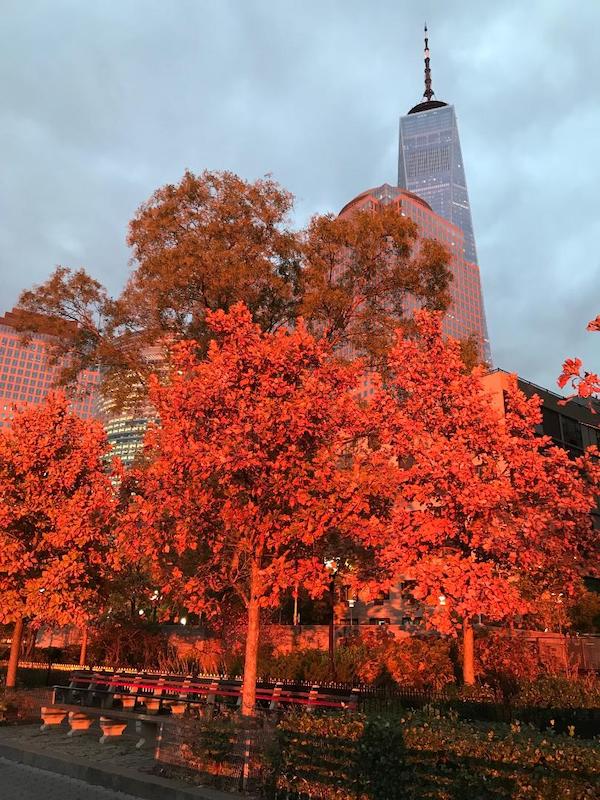 AM writes: "Near North Cove, WFC, NYC about 3 minutes before sunset on the day after Thanksgiving 2021. The leaves are actually brown, but the glow from the sun makes them look reddish orange."
* * *
Readers: Water Cooler is a standalone entity not covered by the recently concluded and — thank you! — successful annual NC fundraiser. So if you see a link you especially like, or an item you wouldn't see anywhere else, please do not hesitate to express your appreciation in tangible form. Remember, a tip jar is for tipping! Regular positive feedback both makes me feel good and lets me know I'm on the right track with coverage. When I get no donations for five or ten days I get worried. More tangibly, a constant trickle of donations helps me with expenses, and I factor in that trickle when setting fundraising goals:
Here is the screen that will appear, which I have helpfully annotated.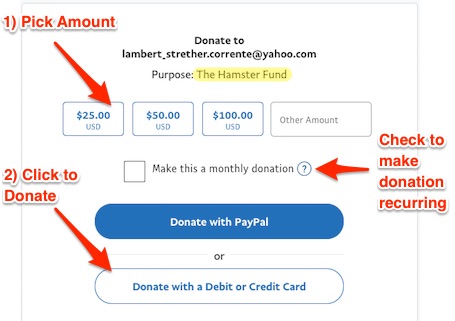 If you hate PayPal, you can email me at lambert [UNDERSCORE] strether [DOT] corrente [AT] yahoo [DOT] com, and I will give you directions on how to send a check. Thank you!