This is Naked Capitalism fundraising week. 1501 donors have already invested in our efforts to combat corruption and predatory conduct, particularly in the financial realm. Please join us and participate via our donation page, which shows how to give via check, credit card, debit card, or PayPal. Read about why we're doing this fundraiser, what we've accomplished in the last year, and our current goal, more original reporting.
By Lambert Strether of Corrente.
Bird Song of the Day
This is lovely, and also more than seven minutes long, so you can make a cup of coffee while you wait.
* * *
#COVID19
Since I decided to do regional case counts today, I eliminated some other charts, so Water Cooler wasn't completely dominated by charts.
Still chugging along. (I have also not said, because it's too obvious, that if by Bubba we mean The South, then Bubba has done pretty well on vax.)
58.9% of the US is fully (doubly) vaccinated (CDC data, as of November 18. Mediocre by world standards, being just below Estonia, and just above the Czech Republic in the Financial Times league tables as of this Monday). We are back to the stately 0.1% rise per day. I would bet that the stately rise = word of mouth from actual cases. However, as readers point out, every day those vaccinated become less protected, especially the earliest. So we are trying to outrun the virus…
Case count by United States regions: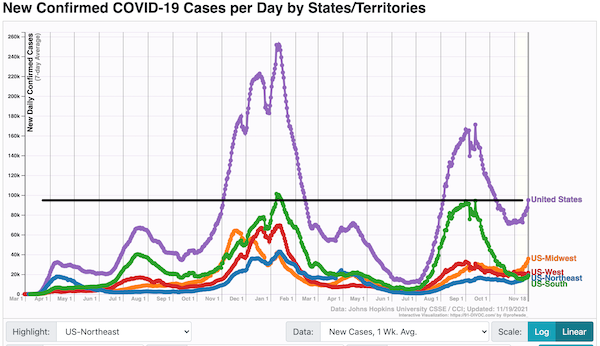 The case count just went vertical. I have drawn a black "Fauci Line" to avoid anti-triumphalism. And right before Thanksgiving, too. Here are regional breakdowns:
The West: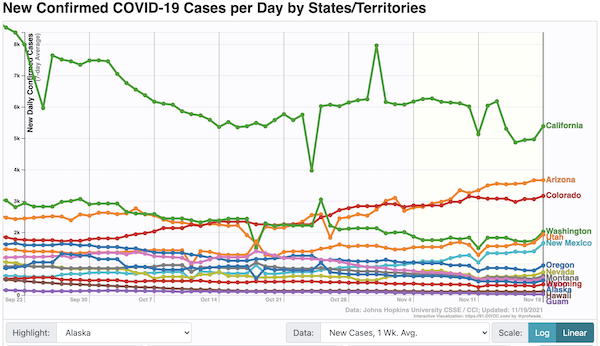 California bounces back while Arizona and Colorado slow togewther. But Washington, Utah, New Mexico, Oregon, and Nevada all up.
The South: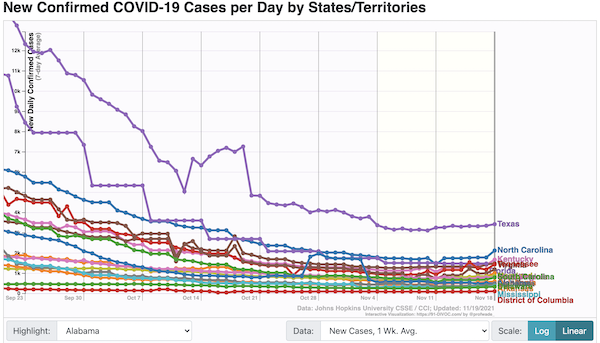 The South joins the party (so much for "It's the temperature!"). North Carolina, Kentucky, Tennessee.
The Midwest: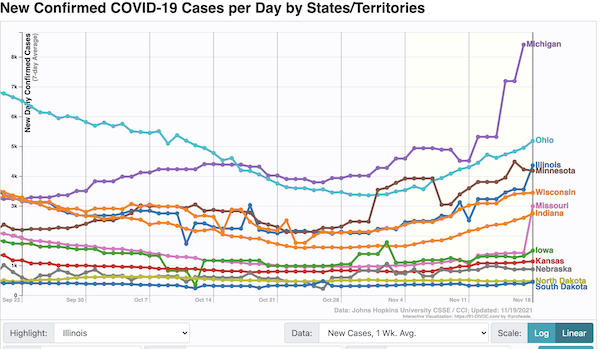 Holy moley, Michigan! And Missouri! But Ohio, Illinois, Wisconsin, Indiana, and Iowa too.
The Northeast: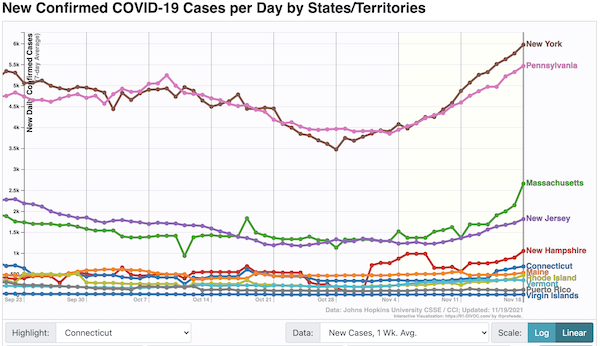 New York and Pennsylvania leading in tandem. Massachusetts up too, as predicted by MWRA data. Plus New Jersey, New Hampshire, and Connecticut.
At a minimum, the official narrative that "Covid is behind us," or that the pandemic will be "over by January" (Gottlieb), or "I know some people seem to not want to give up on the wonderful pandemic, but you know what? It's over" (Bill Maher) is clearly problematic. (This chart is a seven-day average, so changes in direction only show up when a train is really rolling.)
* * *
"The U.S. land border is open. Here's what you need to know" [CBC]. "When the clock struck midnight on Monday, the U.S. land border reopened to fully vaccinated Canadian travellers following a 19-month shutdown. The United States has kept its shared land border with Canada closed to non-essential travel since the start of the COVID-19 pandemic in March 2020. But on Monday, the U.S. started welcoming back recreational travellers by land and passenger ferry — as long as those aged 18 and older are fully vaccinated against COVID-19. Younger travellers are exempt from the requirement." • Well, we'll hope that none of these "fully" vaccinated people are infected and transmitting. We could get lucky! On another note regarding Yves (and GM's) post on B.1.640 this morning: This variant first showed up in Congo-Brazzaville, which is in the Francophonie. The variant also showed up in France, part of the Francophonie by definition, and in Normandy (site of Calais, where periodically "cleared" refugee camps still exist for migrants who hope to reach England). Quebec is also in the Francophonie. There is a direct flight, naturally, from Montreal to Brazzaville. Montreal is two hours from Burlington, Vermont by car, and five hours from Lewiston, Maine. If I were running the Vermont Department of Health or the Maine Center for Disease Control & Prevention I would be concerned.
* * *
One of the sources of the idea that Covid is on the way out, I would speculate, is the CDC's modeling hub (whose projections also seem to have been used to justify school re-opening). "Here is today's version of the chart from the CDC modeling hub, which aggregates the results of eight models in four scenarios, with the last run ("Round 9") having taken place on 2021-08-30, and plots current case data (black dotted line) against the aggregated model predictions (grey area), including the average of the aggregated model predictions (black line). I have helpfully highlighted the case data discussed above: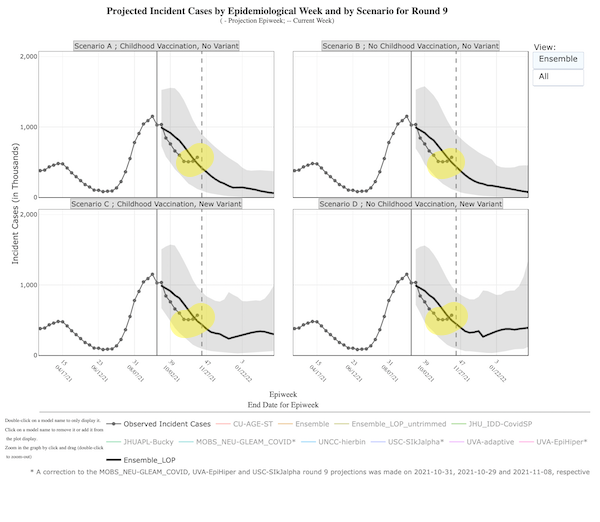 (Note that the highlighted case data is running behind the Johns Hopkins data presented first.) Now, it's fair to say that the upward trend in case data (black dotted line) is still within the tolerance of the models; it does not conform to the models' average (black line), but it stays within the grey area (aggregated predictions) It's also true that where we see an upward trend in the predicted case data (lower right quadrant) it's much later than where we are now. It's too early to say "Dammit, CDC, your models were broken"; but it's not too soon to consider the possibility that they might be. But maybe we'll get lucky, and the problem, if indeed it is a problem, will go away before Thanksgiving travel begins.
MWRA (Boston-area) wastewater detection: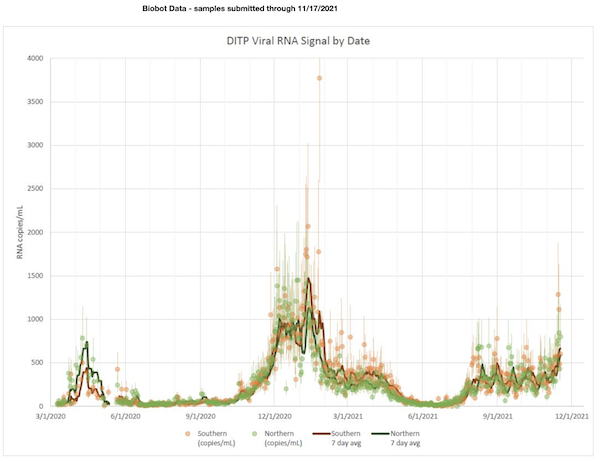 Yikes. As I wrote: "It would be really bad if the case count jumped just as the students headed home for Thanksgiving."
The Massachusetts Water Resources Authority (MWRA) service area includes 43 municipalities in and around Boston, including not only multiple school systems but several large universities. Since Boston is so very education-heavy, then, I think it could be a good leading indicator for Covid spread in schools generally.
* * *
Politics
"But what is government itself, but the greatest of all reflections on human nature?" –James Madison, Federalist 51
"They had one weapon left and both knew it: treachery." –Frank Herbert, Dune
"They had learned nothing, and forgotten nothing." –Charles Mice de Talleyrand-Périgord
Biden Administration
"House passes Biden's Build Back Better bill, sending measure with free preschool, climate initiatives to the Senate" [USA Today]. "The House Friday morning passed President Joe Biden's Build Back Better bill, a wide-ranging package of Democratic social spending priorities that includes free preschool, initiatives to fight climate change and affordable housing programs. The legislation was approved on a 220-213 vote clearing a major hurdle for a plan that is the cornerstone of his sweeping domestic agenda to expand the nation's social safety net, confront climate change, and help Americans bounce back from the COVID-19 pandemic. The measure now goes to the Senate, where it faces an uncertain future…. After the bill passed, Democrats gathered at the front of the chamber, hugging, dancing and applauding. A cheer of, 'Nancy! Nancy! Nancy!' broke out."

"The Outer Limits Of Corporate Politics" [The Daily Poster]. "Democratic Party leaders on Thursday united around a plan to halve their economic agenda, which had already been nearly halved a few months ago. The full loaf is really a quarter loaf, but at this point, it's actually less than that, because they also slashed promised regulatory and tax provisions that might have reduced medicine prices, provided workers some paid leave, and made billionaires start paying taxes. In the coming days, we will learn more of the granular details in the 1,600-plus page bill — but the overall agreement amid a flood of industry campaign cash is an illuminating moment: It reveals the outer limits of possibility for corporate politics, and the human costs of those politics. In general, the reason the Democratic Party always sounds so helplessly incoherent is because its lawmakers are trying to simultaneously appease their corporate donors and look like they are fulfilling their public promises to fix problems created by those corporate donors. In most cases, this is impossible. You cannot protect pharmaceutical and fossil fuel industry donors and also reduce the price of medicine and solve the climate crisis. If you try to pretend you can do both, the donors always eventually win out. So you end up talking in circles, complaining accurately about the problems while doing nothing to solve them, and then portraying marginal victories as huge wins to voters who must wonder why their lives aren't improving." • Commentary:

****BUILD BIGGER BULLSHIT****#BBB = $1.85 trillion over 10 years.

1% WEALTH = $6.5 trillion during pandemic.

Biden, Schumer, and Pelosi are doing EXACTLY what they're paid by oligarchs to do: Make a big show out of maintaining the status quo. And treat their voters like ?

— Peter Daou (@peterdaou) November 19, 2021

So, that $6.5 trillion was there for the taking all the time….

"Truth and Reconciliation" (podcast) [Deconstructed]. "Much of President Biden's agenda rests on the minutiae of Senate rules and parliamentary procedures; this has led to a renewed interest in the obscure but enormously consequential role of the Senate parliamentarian, Elizabeth MacDonough. An unelected official, she nonetheless has an extraordinary amount of influence over the current budget negotiations. Ari Rabin-Havt, former deputy campaign manager to Bernie Sanders, joins Ryan Grim to discuss the parliamentarian's role in the legislative process." • Very interesting in the nuts and bolts of the process (and why the current Parliamentarian should be fired).

"Six Theories of Joe Biden's Crumbling Popularity" [The Atlantic]. "That inversion happened just as the Biden administration was fumbling the withdrawal from Afghanistan. At the time, many tempered observers (including me) guessed that although the withdrawal might be a tactical or moral catastrophe, it would not be a political one—or at least not an enduring political one. Big events like the withdrawal, which drew extensive media coverage, can temporarily depress a president's standing, but this one seemed unlikely to endure. First, voters don't really tend to weight foreign policy heavily in their assessments; second, majorities of Americans had supported leaving Afghanistan for years, Trump among them. With nearly three months' perspective, we appear to have been wrong. Biden's numbers never recovered, and have continued to slide." • Far too charitable to the warmongering press; after Biden ended a war, they turned on him, and it was open season.
2024
"Cook Political Report shifts three Senate races toward Republicans" [The HIll]. "The Senate contests in Arizona, Georgia and Nevada once leaned toward Democrats. That changed on Friday, when the nonpartisan election handicapper reclassified them as toss-up races, meaning that they could go in either direction. All three seats are currently held by Democratic incumbents, Sens. Mark Kelly (Ariz.), Raphael Warnock (Ga.) and Catherine Cortez Masto (Nev.). Republicans see those seats as their best pickup opportunities in 2022."

The zeitgeist:

It isn't that anyone particularly loves GOP, they mostly don't. It is that the country feels "off" & stuff feels "weird". Again. Most of this is about a Covid crisis Biden pitched the electorate he was gonna get under control & return us to Normal. But normal hasn't returned 2/

— Chris Arnade ? (@Chris_arnade) November 9, 2021

"Off" and "weird." I don't think he's wrong (and let's see how Thanksgiving goes…).
2024
"The candidate the Kamala-Pete buzz ignores" [Politico]. "Amid the glut of speculation about whether Kamala Harris or Pete Buttigieg is Joe Biden's political heir, another important succession story in Democratic circles has gone almost entirely undiscussed: Who will inherit Bernie Sanders' ideological mantle?… But Sanders, like Biden, is old. No one in his orbit imagines him mounting a third run should Biden call it quits — something, to be clear, the president and his team have explicitly said he isn't doing…. 'Bernie is no different than when he was a crazy white-haired congressman,' said Rocha. 'What legitimized him was when he could raise tens of millions of dollars. That made him real to every power broker in America. And no one beyond AOC has been able to do that.'" Which contradicts Rocha's earlier view: "'You are going to have some massive, massive changes happening in the next two or three years,' said Rocha. 'The only way to really be successful has to be rooted in almost a Donald Trump/auto-worker/person of color working-class narrative of economic populism. This is what the Democrats have walked away from at their own peril and one where they are getting their ass handed to them.'" • Hmm.
Democrats en Deshabille
"Dirty Dollars II: West Virginia" [Pittsburgh Post-Gazette]. The deck: "Accused money launderers secretly moved millions into America to buy steel mills — while elected leaders helped them fend off U.S. regulators and foreign competitors. Left in the wake: hazardous waste and injured workers." And who might those elected leaders be? You'll never guess: "Sens. Joe Manchin and Shelley Moore Capito joined other lawmakers in firing off a letter to the agency in 2015, saying the plant in their home state and another in Ohio could shut down if they were forced to install expensive equipment and submit to testing under a strict deadline." • Ugh.

Symbol manipulators gotta symbol manipulate:

This from Yglesias is just so fucking spot on ? pic.twitter.com/SYInbcpdrU

— wanye (@_wayneburkett) November 17, 2021
RussiaGate
Nothing fundamental will change:

Don't let them trick you into thinking they're providing accountability for this. Not one journalist will lose their job for this fraud. On its payroll, CNN still has most of the security state agents and media liars who most pushed the Steele Dossier, including @NatashaBetrand.

— Glenn Greenwald (@ggreenwald) November 19, 2021
Realignment and Legitimacy
"Kyle Rittenhouse is acquitted of all charges in the trial over killing 2 in Kenosha" [NPR]. "Jurors deliberated for roughly 27 hours over the course of four days before pronouncing Rittenhouse not guilty on all five counts: first-degree intentional homicide, first-degree reckless homicide, first-degree attempted intentional homicide and two counts of first-degree reckless endangerment. The jury was also asked to consider lesser versions of several counts, but were not swayed…. For the past two weeks, the trial has commanded the nation's attention — thanks in no small part to the fact that nearly every minute of the proceedings has been broadcast widely on TV and livestream video."

Yikes! A thread:

THREAD – Food Supply Collapse

My family are currently in positions of plant manager and quality assurance manager in poultry plants. I can say for certain that the current situation is more dire than most people think- and we may see a near total collapse of the food supply.

— . (@agarthapill) November 19, 2021

Note that this is a management perspective. What do readers think?
Stats Watch
There are no official statistics of note today.
* * *
Inflation: "A month of inflation does not a crisis make" [The Week]. "America has a real chance to experience a genuine economic boom over the next couple years, one that might heal some of the lasting economic scars of the lost decade that followed the 2008 crash. Some moderate — and likely temporary — inflation is an acceptable risk to give that boom its best possible chance of happening. First, some quick background. As I've previously written, it seems inflation is coming from three sources. One, because of the COVID-19 pandemic, there has been a huge shift in spending, with expenditures moving away from services and into goods. Instead of going to gyms, restaurants, and hair stylists like they did in 2019, people are staying home and spending more on TVs, computers, and dishwashers. Two, lots of people are still cash-rich thanks to pandemic rescue bucks, cheap credit, and appreciating home values. And three, because business under-invested in capacity for a decade during the weak post-2008 recovery, the global supply system is brittle and struggling to handle the surge in spending. Now back to growth."
Banking: "Nonbanks gain upper hand in commercial real estate lending" [American Banker]. "With banks retreating from commercial real estate lending amid concerns about the pandemic's impact on retail and office occupancy rates, alternative lenders have emerged as the largest source of new loans. In the third quarter, private debt funds and other alternative lenders accounted for 39.1% of all CRE originations, up from 34.9% a year earlier, according to new data from CBRE Group. Conduits for commercial mortgage-backed securities also enjoyed strong growth. Banks had 23.1% market share, down from 38.3% one year prior. 'Debt funds really started hitting full stride during the second half of 2020, in the midst of the pandemic, when banks were largely on the sidelines,' said Brian Stoffers, global president of debt and structured finance at CBRE."
Commodities: "Russia Boosts U.S. Fuel Exports Amid European Energy Crunch" [Bloomberg]. "A fleet of tankers laden with Russian diesel heading to the U.S. East Coast may help to alleviate the most expensive retail prices for the fuel in seven years. Four tankers with 2 million barrels of Russian diesel aboard, the most in data going back to 2018, are set to arrive next week, as natural gas-rich Russia cranks up diesel-producing units that are dependent on a feedstock extracted from costly natural gas, according to Vortexa Ltd. 'Russia is better positioned to supply diesel than other refiners in Europe because of its access to cheap natural gas,' says Clay Seigle, a managing director for Vortexa in Houston. 'It's very rare we'd see volumes this large coming to the East Coast.' The price of diesel and other fuels used for heating has soared as a winter energy crunch pinches supplies globally." • Imagine if this happened with Trump….
Commodities: "The global chip shortage will drag into 2022 — but there are two bright spots, JPMorgan says" [CNBC]. "The global chip shortage is set to drag on till 2022 — but the situation could improve from mid-year onwards as more supplies become available, a top semiconductor analyst at JPMorgan told CNBC. The U.S. investment bank is recommending investors pursue longer-term trends in the semiconductor space — in areas like high-end computing globally as well as less-advanced technologies in China."
Commodities: "Is That Kosher? Rabbis Debate Plant-Based 'Pork'" [Wall Street Journal]. "The arrival of fake, plant-based meat expanded the culinary horizon for many observant Jews in recent years. Faux cheeseburgers were suddenly on the menu at kosher restaurants without breaking the ban on mixing dairy with meat. Chili cheese fries became an option. Could Impossible Foods Inc.'s fake pork also get a kosher seal of approval? Just the word 'pork' was too much to stomach, said Rabbi Menachem Genack, chief executive of the world's largest kosher certification group, OU Kosher. Its board voted early this year against the company's kosher-certification request for Impossible Pork…. Chanie Apfelbaum, a New York kosher food blogger and cookbook author, said she had no problem eating Impossible cheeseburgers, but 'I have a hard time getting past the idea of eating something that's called 'pork' and is meant to taste like pork.'"
The Bezzle: "Australian Man Just 'Pirated' All NFTs on Ethereum and Solana" [Crypto News]. "A 17.96 terabyte archive containing the screenshots of every single non-fungible token (NFT) minted on top of Ethereum and Solana has appeared on torrent site PirateBay….Geoffrey Huntley, the software developer from South Australia behind the prank, says that he had to rent a bare-metal server to pull this off, adding that it was 'worth it.'… The final boss of "right-clickers" says that the gigantic collection of NFT screenshots is meant for others to study 'this generation's tulip mania.'… Expectedly, performing the ultimate rick-click save attracted tons of praise from fellow NFT skeptics. Some even praised the user for actually making NFTs decentralized by means of peer-to-peer torrenting." • Commentary:
Oh my god they funged the tokens

— -Jenn- (@literal_cyanide) November 19, 2021
Supply Chain: "'Big box' stores weather supply chain snarls better than smaller rivals" [Financial Times]. "America's largest retailers are weathering the country's supply chain storm while smaller rivals struggle to secure sufficient supplies, according to earnings announcements and survey data that point to a widening rift between the biggest store owners and the rest. Walmart, Home Depot, Lowe's and Target all reassured investors in recent days that they were starting their peak season with strong inventory levels. Most of the "big box" chains commented that their size, deep vendor relationships and strong balance sheets were helping them gain market share, albeit at a cost to profit margins. But smaller brands painted a more challenging picture of inventories not recovering to pre-pandemic levels…. [T]he deepest-pocketed retailers, such as Walmart and Costco, have been able to charter their own vessels and air freight in-demand products to secure deliveries."
Tech: "Apple Accelerates Work on Car Project, Aiming for Fully Autonomous Vehicle" [Bloomberg]. "Apple Inc. is pushing to accelerate development of its electric car and is refocusing the project around full self-driving capabilities, according to people familiar with the matter, aiming to solve a technical challenge that has bedeviled the auto industry…. Recently, the company reached a key milestone in developing the car's underlying self-driving system, people familiar with the situation said. Apple believes it has completed much of the core work on the processor it intends to eventually ship in the first generation of the car. The chip was designed by Apple's silicon engineering group — which devised the processors for the iPhone, iPad and Mac — rather than within the car team itself. The work has included honing the underlying software that runs on the chip to power the self-driving capabilities." • There are, naturally, mock-ups of the interior. Worth noting that, regardless of their skill with Silicon, it's been a long time since Apple was either good or creative with software, especially at the UI/UX level. Apple is a manufacturer, and robot cars are not a manufacturing problem. I remain in my priors, that there is and will be no Level 5 algo, and so any "self-driving" that is done will be dependent on altering the built environment and/or limiting routes, so that the algos can function. This Apple may have the clout to do, especially in the California or San Francisco area.
Manufacturing: "Boeing Dreamliner Defects Bog Down Production" [Wall Street Journal]. "The plane maker is holding off completing the new wide-body jets at its North Charleston, S.C., factory as workers and engineers address problems related to areas surrounding passenger and cargo doors on aircraft already under construction, these people said. The latest production slowdown began in recent days and could last a few weeks as Boeing seeks expertise from other aerospace manufacturers in addressing the door issue, some of these people said. In late October, Boeing disclosed it was producing about two Dreamliners a month, down from a planned monthly rate of five, to resolve production issues. A string of production snafus has hampered Boeing's ability to deliver new Dreamliners for much of the last year, fueling the manufacturer's financial losses and making it difficult for airlines to build schedules for jets often used in international travel…. A Boeing spokeswoman said work continues at its Dreamliner factory and production 'rates will continue to be dynamic' as the manufacturer focuses on resuming normal assembly, performs inspections and repairs finished aircraft awaiting delivery." • "Rates will continue to be dynamic."
Concentration: "What's Behind Amazon's Feud With Visa" [Bloomberg]. "Amazon in recent weeks has announced deals with PayPal Holdings Inc.'s Venmo and Affirm Inc. that will give U.S. shoppers another way to avoid Visa. The retailer is also considering shifting its popular co-brand credit card to Mastercard Inc. amid the simmering tensions. In some ways, the fight is nothing new. Retailers have long balked at the fees they're forced to pay each time a consumer swipes a card at checkout. While it can amount to just pennies per purchase, that adds up: Merchants in the U.S. spent $110 billion in card-processing fees last year alone. Most consumers have little idea that these costs exist or how much they amount to, even though retailers say they're responsible for higher prices on many everyday goods. They're also a big part of the credit-card company business model. In the U.S., it's often these swipe fees that help bankroll popular premium credit-card rewards and fraud protections. With its latest move, Amazon is taking a page from the likes of its rivals Walmart Inc. and Kroger Co., both of which have temporarily instituted similar bans on Visa cards. For now, most analysts believe Visa will be able to reach a truce with Amazon, as it has done with Walmart and Kroger in the past."
* * *
Today's Fear & Greed Index: 74 Extreme Greed (previous close: 75 Extreme Greed) [CNN]. One week ago: 83 (Extreme Greed). (0 is Extreme Fear; 100 is Extreme Greed). Last updated Nov 19 at 11:50am.
Health Care
"Wait what? FDA wants 55 years to process FOIA request over vaccine data" [Reuters]. "Freedom of Information Act requests are rarely speedy, but when a group of scientists asked the federal government to share the data it relied upon in licensing Pfizer's COVID-19 vaccine, the response went beyond typical bureaucratic foot-dragging. As in 55 years beyond." • 55 years seems a little excessive. And why on earth wasn't the data public in the first place?
"Vials found in Pennsylvania lab did not contain smallpox as labeled, CDC says" [NBC]. • Phew!
"Boston MedFlight Forced To Take Patients Out Of State Due To Hospital Bed Shortage" [CBS Boston]. "Some critically ill patients onboard Boston MedFlight helicopters — bound for one of the city's several hospitals — have flown into a harsh reality of late. No available ICU beds…. Experts say Covid-19 is a fraction of the problem — but not the problem itself. For starters, Boston MedFlight is carrying much sicker patients these days — and more of them — because so many people put off getting medical care for their health issues during the pandemic." • This will shortly be a big problem, given the MWRA and case count data.
Droplets were never clearly defined! Good thread:
I'm hearing that @WHO can't go all out to address airborne transmission of SARS-CoV-2 until we all agree on a fixed definition of airborne transmission. This is misguided. The virus is airborne. It's not complicated. Act, or take responsibility for more needless deaths. https://t.co/xUQv8W6kym

— Trisha Greenhalgh (@trishgreenhalgh) November 18, 2021

More footdragging and pettifoggery from the public health establishment. (And you can bet if leading aerosol scientists held a conference and proposed a standard, they wouldn't accept it.)

The Biosphere

"The carbon capture plants that COP26 didn't discuss" [Nation of Change]. A summary of carbon capture options, not completely accurate IMNSHO (BECCS is not "promising"). But this is interesting: "Unfortunately, even this broad look at the problem of carbon capture fails to discuss two other solutions which are relatively inexpensive and which avoid problems that trees involve. These two solutions are cultivating hemp and bamboo. Both of these grow a lot faster than trees, provide better carbon capture, and offer product uses that many of the other solutions do not offer…. Why weren't these plants discussed at COP26? Probably because hemp has a bad reputation of being related to marijuana, and bamboo is an enemy of wood lumber companies. But those aren't good reasons. Fast growing plants are better than trees and cheaper than mechanical devices like DAC. The time has come to stop viewing these plants with a blind eye and start to use them in an effective way." • Intuitively, I am for more complexity. I'm not sure that plantations of hemp and bamboo will have the promised effects. But interesting nonetheless!

"Communities consider 'managed retreat' from climate change" [Associated Press]. "The risks to the Gullah Geechee and other communities have intensified enough to raise a startling question: Should some populated places simply be abandoned to nature? One strategy gaining traction is so-called managed retreat, which is the planned relocation of vulnerable people. 'This is a huge issue. By my reckoning, there will be 30 million people who are displaced by midcentury, and there will be mass migrations in the United States,' said Stephen F. Eisenman, director of strategy for the Anthropocene Alliance, a climate and environmental justice group. The biggest question is whether the retreats are planned and methodical or unplanned and chaotic."

"Scientists confirm that nighttime wildfire activity is increasing" [Wildfire Today]. "Heat sensing data from satellites showed significant increasing trends in nighttime wildfire fire activity, with a +54%, +42% and +21% increase in the annual nighttime sum of Fire Radiative Power (FRP), annual nighttime active fire pixel counts, and annual mean nighttime per-pixel values of FRP, respectively, in the latter half of the study period. Activity during the day increased also, with rates of +36%, +31%, and +7% respectively. Analysis of coincident 1000-hour fuel moistures indicated that as fuels dried out, satellites detected increasingly larger and more intense wildfires with higher probabilities of nighttime persistence."

"Active Energy's wood pellet operation in Maine has failed; no word on fate of Lumberton plant" [The Pulse]. "'An irreparable mechanical issue' has apparently doomed Active Energy Renewable Power's "CoalSwitch" wood pellet operation in Maine, casting doubt on the company's original plans to launch a similar plant in Lumberton, in Robeson County [North Carolina]…. Six months ago, Active Energy moved its wood pellet operation to Maine for a trial operation, in hopes of collecting air and water quality data to satisfy changes it had requested for its air permit in North Carolina. … Although unable to get its air permit in North Carolina, Active Energy still had to meet a contractual deadline to deliver 900 to 1,000 tons of pellets to PacifiCorp, which plans to burn them at its Hunter Power Plant in Utah, according to company correspondence with investors. Active Energy piggybacked on an existing permit holder in Maine, Player Holdings, which makes fireplace logs, to produce the wood pellets. Player is also Active Energy's engineering consultant in North Carolina." • "Player Holdings." Really? I have never understood wood pellets. I understand making "fireplace logs" even less. There are a lot of actual trees in Maine. You can cut them down and make logs out of them.

The 420

Games

"Bobby Kotick must resign" [Polygon]. "In July, California's Department of Fair Employment and Housing filed a lawsuit against Activision Blizzard, saying the video game publisher had fostered a culture of "constant sexual harassment" and discrimination. The report, filled with horrific and detailed personal allegations of cruelty made predominantly by female staffers, sparked months of rallies, threats of boycotts, and a flurry of departures from the company. But throughout, Activision Blizzard CEO Bobby Kotick claimed that despite his role atop the company, he had little to no insight into the toxicity that his employees described. He chose denial and aloofness. The Wall Street Journal now reports that Kotick was, at best, withholding key information in his response, and, at worst, lying to protect himself from backlash that had already forced out some of his peers in senior-most positions of the company. The report alleges that Kotick did know about the toxic culture within his company, and that he knew on a granular and graphic level. The alleged heinous actions that Kotick has been described as having committed, not on behalf of the company but on behalf of himself, are as disturbing as they are abundant."

Groves of Academe

"Corporate money keeps university ag schools 'relevant,' and makes them targets of donor criticism" [Investigate Midwest]. "Across the Midwest, corporations have become critical, aggressively pursued sources of money for agricultural colleges as tax dollars become increasingly elusive. But that money can put the same schools in awkward positions, vulnerable to criticism from those private donors entangled in public controversies….. Of the four universities that provided donation data to the media outlets, most of the corporate money for ag schools went to the University of Illinois (about $100 million) and Iowa State (about $50 million). Illinois and Iowa are two of the most productive agricultural states in the country. The largest donors to the four universities make up a who's who of powerful agricultural corporations. One of them was Monsanto."

There seems to be a lot of "Great Resignation" going on:

someone PLEASE check on my professor pic.twitter.com/xbys2Nh66q

— hailey (@hailzfitz444) November 16, 2021

Zeitgeist Watch

"Violence on planes is at an all-time high. Flight attendants' jobs have never been more dangerous." [The 19th]. "In a normal year, the FAA investigates fewer than 200 incidents of unruly behavior. This year, even before the holiday travel season, that number is 990…. In all, there have been reports of 5,240 unruly incidents, 72 percent of them related to mask mandates. The FAA has opened 245 enforcement cases among those, and 37 of the most violent events are being investigated by the FBI. Fines have also gone up to as much as $37,000 per incident, while the FAA is also trying to crack down on to-go alcohol sales to help reduce the number of incidents involving inebriated passengers. Several major airlines, including American and Southwest, have suspended in-flight alcohol sales…. Flight attendants, a workforce that is 80 percent women, are often the last line of defense in many of these incidents. Some of the unruly or violent behavior is directed at them, specifically, and flight attendants have been heavily beaten and even hospitalized this year. "

Class Warfare

"Leaked Audio: Amazon Workers Grill Managers at Anti-Union Meeting" [Vice]. "'We continue to be a target for third-parties who do not understand our pro-employee philosophy and seek to disrupt the direct relationship between Amazon and our associates,' [Ronald] Edison, the operations manager, told workers at the outset of the meeting. 'It would charge its members dues, fees, fines, and assessments in exchange for their representation.' 'Hey, you mind if I jump in real quick?' a worker, who self-identified as a leader of the union, said. 'Now you said 'third party.' So the ALU is a third party? Allow me to correct you because I actually started the ALU. ALU is full of all Amazon associates. You say a 'third party,' but they're all Amazon associates trying to form a union.'" • And the dues are worth it. What a shock to the suits to speak to workers and discover they're not fools.

"4 Major Plot Holes in the 'Organized Crime Rings Are Closing Walgreens!' Narrative" [The Column]. "Regardless of what one thinks Walgreens' business logic is for the closings, one cannot deny the story—either by design or incident—has become a full blown reactionary meme with a specific political context. As Steven Keehner documented at FAIR in July, a single viral video of shoplifting at Walgreens solicited over 300 articles nationwide, not including write-ups in South Africa, Mexico, UK, and South Korea. If you're wondering this is, dollar for dollar, 474,183% more coverage than the one (1) mainstream media article about Walgreens admitting it stole $4.5 million from its employees over several years."

"The Extractive Circuit" [The Baffler]. "The machinery—the actual form and function—of twenty-first-century capitalism is an extractive circuit which quite literally crisscrosses the world. Its global value chains stretch through physical infrastructure and 'frictionless' financial flows at the speed allowed by fossil fuels; telecommunications; and geophysical, technological, psychosocial, and bodily limits and 'optimizations.' It connects economically and ecologically dispossessed agricultural communities in the Global South with regimes of hyperwork in the Global North; rare earth 'sacrifice zones' with refugees; migrant labor with social reproduction; ocean acidification and atmospheric carbon with profitable opportunity. It has required the transformation of states; it has ripped through biomes and through flesh. Capital often appears and is treated as a historical abstraction; this is doubly true of globalized, financialized capital. The extractive circuit is the leaden reality of a global human ecological niche organized for maximal profitability—no matter how difficult or costly to maintain. Its realities underscore the generalization of a colonial social relation in socioecological terms, even as older modes of imperialism and neocolonialism are hardly swept aside. Its speed, frenzy, coercion, and brutality reach into the very heart of the imperial metropole, far beyond where such relations were already present. Feelings of exhaustion—depression, desperation, fatigue, exasperation—course through its wirings, neurons, biochemicals, and sinews. At every 'node' along such a circuit, 'inputs'—ecological, political, social, individual—are extracted and 'exhausted.' The circuit, like capital, crosses boundaries without entirely obliterating them, and, similarly, connects a vast potential political subject across disparate lines—Global North and South, gender, class, race, nationality, religion, and sexuality. The extractive circuit is the socioecological portrait of capitalism historically and its transformations to maintain profitability in the face of immanent headwinds, like the long economic downturn and ecological limits themselves." • M-C-M', baby!

News of the Wired

"The Strange History of the Worst Sentence in English Literature" [Mental Floss]. "If you want to start a novel, your options for an opening line are just this side of infinite. But if you want to start a novel badly, any cartoon beagle can tell you that there's only one choice: 'It was a dark and stormy night.' The phrase has become so ingrained in our literary culture that we rarely give much thought to its origin—and when he put pen to paper, it's likely that author and politician Edward Bulwer-Lytton had no idea just how infamous his dark and stormy night would become. Bulwer-Lytton was once as widely read as his friend Charles Dickens, but today he's remembered almost exclusively for one bad sentence. It's an ironic legacy for a prolific author who influenced some of the most popular novels in English literature, helped invent sci-fi fandom, laid the groundwork for modern crime fiction." • And was an abusive husband, too.

Dad.

I recently walked down a street where the houses were numbered ; 64K, 128K, 256K, 512K and 1MB.

That was a trip down memory lane…#FridayFeeling

— The Dad Joke Man (@DadJokeMan) November 19, 2021




* * *

Readers, feel free to contact me at lambert [UNDERSCORE] strether [DOT] corrente [AT] yahoo [DOT] com, with (a) links, and even better (b) sources I should curate regularly, (c) how to send me a check if you are allergic to PayPal, and (d) to find out how to send me images of plants. Vegetables are fine! Fungi and coral are deemed to be honorary plants! If you want your handle to appear as a credit, please place it at the start of your mail in parentheses: (thus). Otherwise, I will anonymize by using your initials. See the previous Water Cooler (with plant) here. Today's plant (Re Silc):

Re Silc writes: "Wonderful old trees, Rock Creek Park."