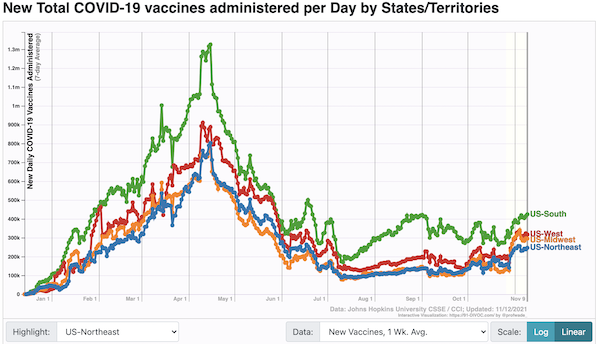 2:00PM Water Cooler 11/12/2021 | naked capitalism
The moods of consumers play a central role in how information is processed. Positive moods promote more casual and less detailed information processing, and negative moods promote more formal and deliberate information processing, especially of potentially negative developments. Partisans aligned with the President's party have adopted very positive moods, and those in the opposing camp very negative moods. As a result, partisan supporters of one or the other presidents either mentioned or ignored rising home and stock values, inflation and income growth rates, or mentioned or ignored employment or unemployment rates, and so forth. The partisan differences in perceptions were not minor, but were large and equal in size.
Employment Situation: "United States Job Openings" [Trading Economics]. "The number of job openings in the US fell by 191,000 from a month earlier to 10.4 million in September of 2021, compared with market expectations of 10.3 million but remaining well above pre-pandemic levels amid the ongoing labor shortage. It was the second straight month of declines in the level of the openings, with fewer positions in state and local government education (-114,000); other services (-104,000); real estate and rental and leasing (-65,000); and educational services (-45,000). Meanwhile, job openings increased in health care and social assistance (+141,000); state and local government excluding education (+114,000); wholesale trade (+51,000); and information (+51,000). The number of job openings was little changed in all four regions."
* * *
Inflation: "The Main Driver of Inflation Is a Murderous Maniac in Riyadh" [The Intercept]. "In June 2018, heading into the midterms, Trump requested that Saudi Arabia and its cartel, the Organization of the Petroleum Exporting Countries, lower energy prices by increasing output, and the kingdom complied. Prices bottomed out in 2020 amid the coronavirus pandemic, and usage sank to record lows. Prices surged once the pandemic waned and the economy reopened, and Biden in August 2021 requested that OPEC again increase output. This time MBS refused, angry at having yet to be granted an audience with Biden and contemptuous of the U.S. pullback from the war in Yemen. As one of his first pieces of business, Biden had ordered the end of American support for Saudi Arabia and the United Arab Emirates's war, though caveated it by barring only the backing of 'offensive operations.' Saudi Arabia nevertheless received it as a grievous blow. Ali Shihabi, a Saudi national who is considered a voice for MBS in Washington, made that clear in October, tweeting, 'Biden has the phone number of who he will have to call if he wants any favours.'"
Inflation: "War On Inflation, Part 1: The Lesson Of World War II" [Forbes]. "The public-private partnership that was 'Team USA,' then, thought of everything – literally every link critical to the war-making supply chain. All crucial materials were quickly gathered by our government, all needed new manufacturing facilities were supplied by our government, and a guaranteed market for output was contractually provided by our government. All that private sector industry had to do was aid government instrumentalities in planning production, and then produce. The upshot of this collaboration was an astonishing – and astonishingly rapid – growth in pre-war and wartime production. Roosevelt's '50,000 planes' request, universally thought insane at the time Roosevelt made it, was massively surpassed. And this was done while counterpart 'miracles' were worked in respect of ships, tanks, trucks, jeeps, munitions, and all other essentials in war. America quickly became just what the President had called for – the world's 'Arsenal of Democracy.' And all of this productive capacity, which was sold on the cheap to private sector firms once the war had been won, converted quickly to mass production of commercial airplanes, automobiles, durable goods and consumer goods after the War, making America the world's factory for decades beyond the war, its GDP accounting for over 60% of world GDP during the postwar era. All this productive capacity not only made Americans the wealthiest people in the world, it also prevented our rapidly growing economy from being derailed by inflation as we switched over to peacetime production – there were just too many goods for 'too much money' to 'chase too few goods.' Why am I rehashing all of this history, which I bet very few of my readers knew about, now? Easy: Because the US is confronting the same predicaments that it faced both immediately before and immediately after the Second World War now." • The predicaments may be the same. The US is not the same.
Inflation: A good question:
Finance nerds. Is there inflation gauges/baskets, further broken into income/wealth demographics — ie CPI for working poor, for middle income, for professionals etc. different weighted baskets based on different expenses?

My sense is inflation is impacting groups differently

— Chris Arnade ? (@Chris_arnade) October 19, 2021
No answers on the thread. Readers?
Commodities: "China's top chipmaker SMIC says top executive, board members quit" [Reuters]. "[Vice-Chairman] Chiang, a former research director at Taiwan's TSMC, joined SMIC in late December. The company said he had resigned from his vice-chairman position as well as from the board with effect from Thursday in order to spend more time with his family. His departure comes just two months after SMIC's chairman, Zhou Zixue, also resigned, citing health reasons." • "Spend more time with his family." "Health." Really?
Commodities: "Apple supplier Foxconn cautious on 2022 revenue outlook" [Reuters]. "Apple supplier Foxconn forecast on Friday that a global chip shortage would run into the second half of 2022 and its fourth-quarter revenue for electronics, including smartphones, would fall more than 15%. Chairman Liu Young-way said during a conference call that Foxconn was cautious about its 2022 revenue outlook, citing uncertainties surrounding the coronavirus pandemic, inflation, geopolitical tensions and supply chains."
Commodities: "EU's Vestager Warns of Chip Subsidy Race as Intel Weighs Plant" [Bloomberg]. "Chipmakers may play off governments 'against each other' for subsidies to fix semiconductor shortages, the European Union's antitrust chief Margrethe Vestager warned. While such action is tempting for companies in the current circumstances, it 'risks letting taxpayers –- whether European or American -– pick up the bill, and get little from it,' she said in a speech in Leuven, Belgium on Friday. Vestager's words seem targeted at Intel Corp., which is chasing European support to help build more local chip capacity. European leaders have called for more investment to alleviate a supply shortage that's rippled through several industries."
Retail: "The Truth About Those Dollar Stores" [Consumer Reports]. "Dollar General, Family Dollar, and Dollar Tree are billion-dollar brands taking over the discount/value retail space, as the category is called, and are sweeping the country. About 75 percent of us live within 5 miles of one of Dollar General's 17,683 stores, the company says. Only about 60 percent of us live that close to a hospital. Counting just those three brands, dollar stores in this country outnumber Starbucks and McDonald's combined. And more are coming. Dollar Tree and Family Dollar plan to open 600 new stores by early 2022, the company says. According to Coresight Research, which tracks retail trends, more than 40 percent of announced store openings in the U.S. this year, as of the end of August, are for dollar stores." • This is a very good overview, well worth a read.
The Bezzle:
Over the last hundred years every financial crisis has its roots in Floridians being morons about speculative assets with no underlying value. In 1925 they literally sold land in a town that didn't exist, which isn't that different than crypto actually. https://t.co/w13I1GIvIM

— Matt Stoller (@matthewstoller) November 12, 2021
"Every…" is a strong claim. That said, both Cocoanuts and The Big Short are pretty funny movies. And:
The scam is spreading. https://t.co/lExky0aWgE

— Matt Stoller (@matthewstoller) November 12, 2021
The Bezzle: "MacroTactical Crypto #3: Embrace the Nonsense" (PDF) [Spectra Markets]. Human beings tend to pay attention to round numbers and treat them as special or more important than other numbers. This is good to know for traders because if you are rational, you can position yourself ahead of these round numbers knowing the probability of a fill is higher for a limit order at (for example) 68,998 than at 69,001. There is also a novel (and also irrational) phenomenon in bitcoin and meme stocks where traders find particular numbers funny, and place orders at those levels in order to screenshot and flex or just have a good laugh with the peeps in the Discord chat. The numbers 69 and 420 have become standalone memes at this point and so the approach of bitcoin to the $69k level and the $69,420 level were hotly anticipated. Bitcoin obviously has many serious narratives behind it, but it still has one foot firmly placed in the Nonsensical Timeline." • For example:
And then come the charts. Interesting post!
Tech: "Notes on Web3" [Robin Sloan]. "It's possible you have, in recent months, seen people writing with excitement (or curiosity, or consternation) about "Web3". The term imagines the transition of many internet services to a model built around cryptographic tokens, such that ownership and/or control of those services might be divided between their token-holders, a group that might include their users. The tokens would also have exchange value, so, as a user, you could always: cash out." But: "I feel like this simple premise is often lost in the haze: the Ethereum Virtual Machine, humming heart of Web3, is a computer that charges you many dollars to execute a very small program very slowly. It does so in an environment with special properties, and in some cases, those properties are worth the expense. In others?…?it's like running your website on a TRS-80 with a coin slot."
Tech: "What Is Web3 and Why Are All the Crypto People Suddenly Talking About It?" [Slate]. "The appeal of Web3 is that it is decentralized, so that instead of users accessing the internet through services mediated by the likes of Google, Apple, or Facebook, it's the individuals themselves who own and control pieces of the internet. Web3 does not require "permission," meaning that central authorities don't dictate who uses what services, nor is there a need for "trust," referring to the idea that an intermediary does not need to facilitate virtual transactions between two or more parties. Web3 theoretically protects user privacy better as well, because it's these authorities and intermediaries that are doing most of the data collection…. Meanwhile, a number of large companies and venture capital firms are already investing huge sums to build Web3, and it's hard to imagine that their involvement wouldn't amount to some kind of centralized power." • Or, to put the final claim more strongly, "large companies and venture capital firms" wouldn't be investing in Web3 unless they could control it. I mean, that they couldn't do that well was their issue with Web 1.0.
Tech: "Why Zillow Couldn't Make Algorithmic House Pricing Work" [Wired]. "Zillow believed it had the secret to the iBuying world: the Zestimate. Launched in 2006, the highly touted algorithm had been trained on millions of home valuations across the US before it was put to work estimating the possible price of property Zillow itself bought. In theory, it was a natural confluence of two things: Zillow's expertise in pricing homes, and a new method of buying properties that relied on accurate estimates. For three years it worked, according to John Wake, who has been a realtor and real estate analyst around Phoenix since 2003. In that time, he's seen the market collapse several times, including during the 2008–09 financial crisis, set off by the problems with subprime loans. But he's never seen anything like the past 18 months. Tech firms chose the Phoenix area because of its preponderance of cookie-cutter homes. Unlike Boston or New York, the identikit streets [also suitable for robot cars!] make pricing properties easier…. People in real estate feared the arrival of the iBuyers, says Wake. In early October 2021, Zillow recorded its most active week buying homes in Phoenix, part of its goal to buy 5,000 a month by 2024. Then suddenly it stopped buying. Wake had one question: 'What the hell happened?' It became clear a month later. 'We've determined the unpredictability in forecasting home prices far exceeds what we anticipated and continuing to scale Zillow Offers, the company's home buying program, would result in too much earnings and balance-sheet volatility,' Zillow cofounder and CEO Rich Barton said when announcing the company's third-quarter results earlier this month. The company shuttered its iBuying arm and said it would cut 25 percent of its workforce." • If your algorithm sucks, control your inputs. Ah, well. Nevertheless.
Supply Chain: Another solution. A long thread, from which I plug two segments:
3/ The solution's a simple, efficient process called Dual Transactions: a truck must bring an empty container back to the port, thus freeing up their chassis, and at the same time they pick up a loaded container. This saves hours of waiting time & never causes an unused chassis.

— Steve Wen (@stevehwen) November 2, 2021
After various technical issues, we come to this:
15/ Note: While all chassis are the same & can be used w/ any shipping container, many chassis are contractually only able to pick up/return containers from certain port terminals. Meaning these chassis are just stored & waiting for the corresponding ship to come into port ????

— Steve Wen (@stevehwen) November 2, 2021
So, once again, we see that the issue is not the steel out of which chassis are made, but social relations sanctified in the form of contracts (which no doubt also generate fees for the ports).
* * *
Today's Fear & Greed Index: 83 Extreme Greed (previous close: 81 Extreme Greed) [CNN]. One week ago: 85 (Extreme Greed). (0 is Extreme Fear; 100 is Extreme Greed). Last updated Nov 12 at 11:32am.
Rapture Ready]. Record High, October 10, 2016: 189. Current: 186 (Remember that bringing on the rapture is a good thing, so higher is better.) –>
The Biosphere
"Gravitational wave treasure trove shows black holes, neutron stars colliding" [Space.com]. "Scientists have released the largest catalog of gravitational wave detections to date, shedding new light on interactions between the most massive objects in the universe, black holes and neutron stars…. The catalog contains 35 new gravitational wave events, ripples in spacetime predicted by Albert Einstein's theory of general relativity in 1916. The latest batch of detections, made during a measurement campaign that began in November 2019 and ended abruptly in March 2020 due to the spread of COVID-19, brings the total number of gravitational wave events detected so far to 90…. Black holes and neutron stars, which are the collapsed cores of massive supergiant stars, are the densest and most massive objects in the universe. As they come into each other's gravitational fields, they start orbiting each other, forming a binary system. The powerful gravitational forces involved trigger cosmic 'earthquakes' that reverberate through space, distorting the fabric of spacetime. Eventually, these objects collide and merge, forming new, supermassive black holes."
"An expanding molecular toolbox untangles neural circuits" [Nature]. "Life is full of nervous reactions — a head snaps towards a voice, leg muscles tense at the sound of a starting gun and thirsty mice scamper towards a squirt of water when trained to respond to a certain tone. The mechanisms behind such reward-related behaviours are notoriously difficult to unpick…. Still, researchers are slowly creating the tools to untangle that complexity, harnessing the power of sequencing, optogenetics and protein engineering to trace neuronal connections, record their activity, measure their inputs and outputs and map their networks." • These Are Things [Humanity] Was Not Meant to Know….
Zeitgeist Watch
"Something Awful Founder Richard 'Lowtax' Kyanka Dies At 45" [Kotaku]. "In 1999, Kyanka created Something Awful, and today, it's hard to understate the site's influence. It also spawned endless, classic memes, such as, 'All your base are belong to us,' and was even the launching pad for what became 4chan. Our colleagues at Gizmodo listed it at number 89 in the 100 websites that shaped the internet today."
Book Nook
"Let's Waive Shifgrethor And Have An Honest Chat About 'The Left Hand Of Darkness'" (roundtable discussion) [Defector]. Barry Petchesky: "Their journey across the ice was so good. Like, a better description of hardship and endurance and cold than I've ever come across, fiction or non-fiction. And weirdly I've read an awful lot of books about ice journeys. At one point the text made me literally feel cold, to the point where I turned the heat up in my apartment. But yes it's almost unfair how many cylinders Le Guin was hitting on here. The ideas are great. The prose is great. The characters are great. It's almost maddening; one author's not supposed to be so good at so many different things." • I'd estimate that all the discussants are in their 40s (Petchesky) so it's good to see LeGuin making it through to another generation, not merely confined to old codgers like me.
Groves of Academe
"USC Pushed a $115,000 Online Degree. Graduates Got Low Salaries, Huge Debts." [Wall Street Journal]. "Over the past decade, the University of Southern California has used a for-profit company to help enroll thousands of students in its online social-work master's program. The nonprofit school used its status-symbol image to attract students across the country, including low-income minority students it targeted for recruitment, often with aggressive tactics. Most students piled on debt to afford the tuition, which last year reached $115,000 for the two-year degree. The majority never set foot on the posh Los Angeles campus but paid the same rate for online classes as in-person students. Recent USC social-work graduates who took out federal loans borrowed a median $112,000. Half of them were earning $52,000 or less annually two years later, a Wall Street Journal analysis of newly released U.S. Education Department data found. Compared with other master's-degree programs at top-tier U.S. universities, the USC social-work degree had one of the worst combinations of debt and earnings."
"California college students live in vans and hotels as campus housing plans spark backlash" [Los Angeles Times]. "After months of pandemic isolation, Kris Hotchkiss expected a celebratory return to campus for his senior year at UC Santa Barbara. Instead, he and hundreds of fellow students have found themselves hammered by another crisis: a major housing crunch. Hotchkiss had to endure a leaking roof, soggy bedding and power failure that shut down the ceiling fan, refrigerator and lights for six weeks. He has no shower or toilet. That's because he lives in a van — the only affordable shelter he could find." • The background for Munger's ridiculous building.
Guillotine Watch
Speaking of individual responsibility:
Take a look at who actually emits the most carbon. And take a look at how much rich people in the US emit, compared to absolutely anyone else https://t.co/XGjRhj1OKE pic.twitter.com/UbNjGlx9Ld

— Vincent Bevins (@Vinncent) November 8, 2021
Class Warfare
Labor power shortage:
The labor situation is WILD right now.

Went to a big CVS to get batteries. No batteries. And no aspirin. And no chocolate. Empty shelves.

I asked, "are y'all closing?" He said, "Here's the deal. This store has two employees, total. I'm one of them… and today is my first day." pic.twitter.com/Ybxz7gbhLM

— Cabel (@cabel) November 11, 2021
Readers, are things like this happening in your area? If you have similar pictures to share, you can send them to me at the contact address below, but please put "SHORTAGE" in the subject line. And please include your (rough) location…..
* * *
Funny how far capital can reach. Down to streetlight timing:
They've deemed it illegal for picketers to cross the street against the "don't walk" sign. Now they say the "walk" sign only comes up every 5-10 minutes. So cars just pass through freely since picketers can't walk across the road.

— Jonah Furman (@JonahFurman) November 12, 2021
"Walking America: Florence SC" [Chris Arnage, Intellectual Inting]. "Spend a little more time here and you notice how diverse the entire scene is. The Waffle House, McDonald's, and Cracker Barrel, have as many whites in them as blacks. Same with the discount motels, convenience stores, and shops. The diversity here doesn't just play out in the way it mostly does in wealthier northern towns, where blacks are serving whites, but in a more balanced way, with both as workers and customers. That is because Florence, like many deep southern towns, is half black and half white, and while the black residents are poorer, the gap between them and whites isn't as large as it is in New York or DC. Because in Florence what most everyone shares, regardless of skin color, is a lack of fancy college degrees." • As usual, incredibly evocative photographs that could be taken in no other country.
News of the Wired
"Gorgeous Floral Interpretations of Great Works of Art" (gallery) [Laughing Squid]. "[A]mazing floral arrangements that mimic the original image in shape and color palette." • Not sure about this genre….
* * *
Readers, feel free to contact me at lambert [UNDERSCORE] strether [DOT] corrente [AT] yahoo [DOT] com, with (a) links, and even better (b) sources I should curate regularly, (c) how to send me a check if you are allergic to PayPal, and (d) to find out how to send me images of plants. Vegetables are fine! Fungi and coral are deemed to be honorary plants! If you want your handle to appear as a credit, please place it at the start of your mail in parentheses: (thus). Otherwise, I will anonymize by using your initials. See the previous Water Cooler (with plant) here. Today's plant (KE):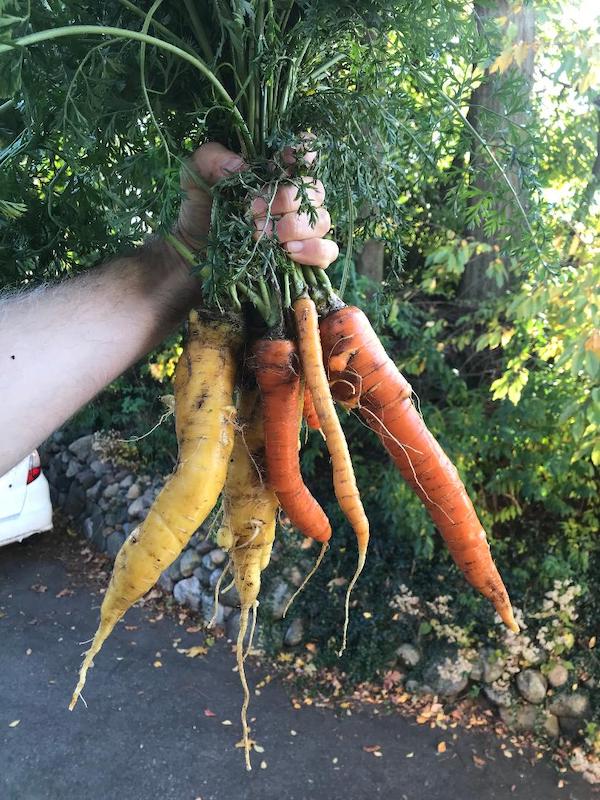 KE writes: "Here's the last of our carrot crop, which was amazing this year. We're in northern NJ. We have raised beds, nothing special. We got a lot of rain and hot weather this summer, which seems to be great for carrots. We did mulch the beds last fall and put a tarp on them over the winter so maybe that helped."