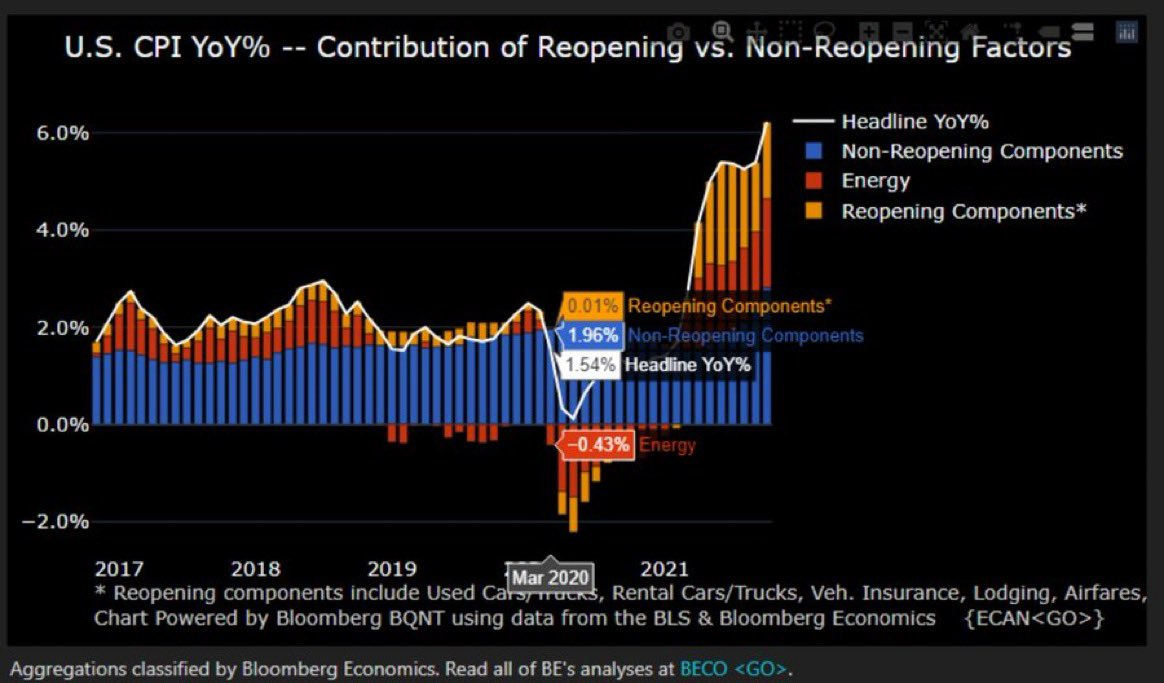 10 Friday morning reading-big picture
My weekend morning train WFH wrote:
• Why should we worry about inflation? Some respected economists speak as if the US economy is in a severe inflationary predicament. But the current rise in price growth is likely to be a major benign consequence of the post-pandemic recovery. (Project Syndicate) You can also take a look Which asset classes performed best during inflation? First, let's look at the inflation-adjusted ("actual") annual returns of nine different asset classes from 1976 to 2019 (data from BullionVault). Please note that I set the upper limit of all actual returns to 20% (-20%) so that we can better visualize the performance of these different asset classes:(USD and data)

• Finding the hottest stock symbol creates a new gray market on Wall Street Strong fund names have been shown to facilitate the trading of U.S. stocks, and the invasion of day traders is making them the key to the success of new ETFs (Bloomberg)

• $76 billion per day: How Binance became the world's largest cryptocurrency exchange Trading platforms have proliferated because they have nowhere to run—no offices, licenses, or headquarters. Now, the government insists on adopting some control measures. (Wall Street Journal)

• Tesla has 5 founders. Why are only two people really rich? One is Elon Musk (duh) and the other is JB Straubel. But there are three others—and there is a cautionary tale about why they are not billionaires either. (Forbes)

• Unkillable applications on the Internet: The noisier our digital life, the more popular the humble newsletter. (Atlantic Organization)

• Minimal extraction element: why Zuck might have to make actual contributions to an open, interoperable metaverse The picture of Metaverse that Zuck drew looked interesting, and the character he wanted to create for Meta felt very fair. I almost feel that we Internet citizens are taking advantage of poor Zach. He is willing to lose more than 1 billion US dollars every year, hoping that his company can one day get a share of the Metaverse economy? Respect the patron saint of the immersive Internet! (Not boring)

• You are not living in the world where you were born I'm not talking about using Rivian's leverage on the IPO. In other words, stocks will continue to rise at a rate of 20% per year. In other words, the stock market cannot fall by 50%. I mean it's too easy to compare history and think that you are smart. The market may be more correct than you, and there is no way to invest in waiting for it to return to what you think is normal. (Irrelevant investor)

• Will the magic of psychedelics change psychiatry? Since the heyday of hallucinogenic hippies, psychedelics have come a long way. Studies have shown that they can alleviate post-traumatic stress disorder, depression and addiction. So will we be treated with magic mushrooms and ecstasy soon? (protector)

• Our worst thoughts about "safety" For decades, psychologists, safety regulators, and economists have been interested in how individuals change their behavior in response to perceived risks. A concept that was popular in the 1970s has plagued everything from seat belts to masks-and it will continue to put us in danger. (slate)

• After 14 years, Robert Plant and Alison Kraus finally meet again In 2007, the duo collaborated with T Bone Burnett to produce the million-sales victory "Raising Sand". Its sequel has once again become a substitute for almost all contemporary popular music. (New York Times)
Be sure to check our Master of Business Meet next week with Robin Wigglesworth, a global finance correspondent for the Financial Times based in Oslo, Norway. He focuses on reshaping market and investment trends, from technological disruption to quantitative investment.His new book is Trillions: How a group of Wall Street traitors invented index funds and changed finance forever.
Visualize to build a broader state of inflation.

source: @joebrusuelas
Sign up for our read-only mailing list here.