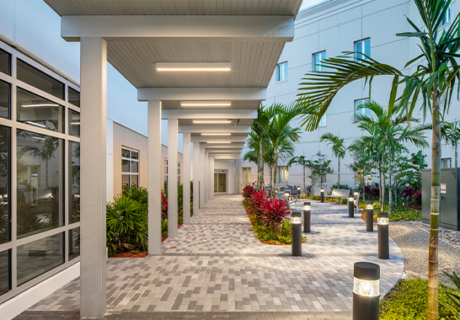 Photo Tour: The Centre of Excellence for Spinal and Orthopedic Surgery at Melbourne Regional Medical Centre
In June 2021, the Steward Health Care Melbourne Regional Medical Center (MRMC) opened its doors to a 42,000 square foot expansion project, creating a spine and orthopedic surgery center of excellence in Melbourne, Florida. This project enables MRMC to work in a flexible environment to improve its capabilities as the needs of the community evolve. The new facility also supports surgeons and doctors in learning new surgical techniques and techniques.
The single-storey building is connected to the hospital through internal corridors and outdoor covered walkways, which are adjacent to terraces that provide rest for patients, staff and family members. The exterior wall shields the Florida afternoon sun, while a dedicated entrance welcomes visiting surgeons and students.
The center's four operating rooms are larger than the hospital's current operating rooms and can accommodate additional equipment. They also have a seamless floor and modular wall system to eliminate hard-to-reach corners and gaps for easy cleaning. The modular ceiling system organizes overhead equipment and reduces the risk of airborne pathogens.
Looking to the future, as demand increases, the housing space of the facility will allow the addition of four additional operating rooms.
The 19 preparation and recovery cabins are arranged in a runway configuration around the centralized nurse station, which improves the visibility of nursing team members. Visiting doctors and students can use the simulation laboratory to learn new surgical techniques and classrooms equipped with large monitors can observe the operation in real time.
Gresham Smith (Miami, Florida) Provided architecture, interior design, experience design and wayfinding services for the project.
Project details:
Facility name: Melbourne Regional Medical Center Spinal and Orthopaedic Surgery Center of Excellence
Location: Melbourne, Florida
Completion date: June 2021
Owner: Steward Health Care
Total floor area: 42,000 square feet
Total construction cost: $15 million
Cost per square foot: 346 USD
Architect: Gresham Smith
Interior designer: Gresham Smith
General Contractor: Rush Construction
Engineers: TLC Engineering for Architecture Inc. (MEP), VHB Inc. (civil and landscape architecture), Walter P Moore (structure)
Builder: Not applicable