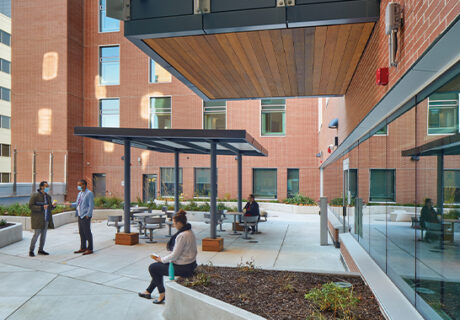 Honor Award 2021: Downtown
Canada's largest mental health and addiction teaching hospital, the Toronto Center for Addiction and Mental Health (CAMH), embarked on a reconstruction journey in 2005 to rebuild the shelter site in the 1850s. The goal is to create a "village within a city" that normalizes mental health treatment in the community it serves.
Phase 1C designed by Stantec Architecture Ltd. adds 655,000 square feet through the McCain Integrated Care and Recovery Building, which houses public spaces and resource centers, and a seven-story crisis and intensive care building with 235 hospitalizations Hospital beds, a psychiatric hospital emergency room, outpatient services and external treatment spaces. The hallmarks of the project celebrated by the jury include a strong therapeutic art program, open spaces with natural views and easy access to the outdoors, and integration with the surrounding urban structure.
In addition, since the integration of all clinical services and emergency departments in the same building simplifies patient transfer, the operational efficiency achieved through this project is praised. Innovations include a real-time positioning system to give patients more independence in the building, and a teaching kitchen where patients can learn life skills through projects developed with local community colleges.