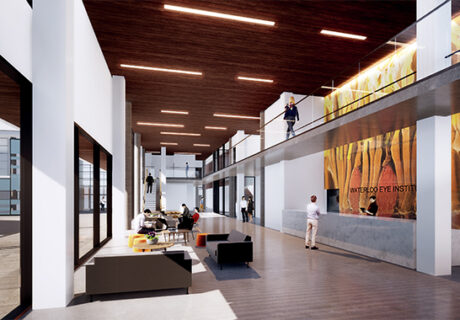 First look: Waterloo Eye Institute
In the next 25 years, as the country's population ages, the annual cost of vision loss in Canada is expected to double to 30 billion Canadian dollars. Many of the main causes of vision loss-including diabetic retinopathy, glaucoma, cataracts and macular degeneration-are related to age. These statistics are the reason why the School of Optometry and Visual Sciences at the University of Waterloo in Waterloo, Ontario, Canada, set out to create the Waterloo Institute of Ophthalmology. The project enhances and expands two floors of the existing building on the University of Waterloo campus.
hook (Toronto; Ottawa, Ontario, Canada; and Washington, DC) was selected to design a 67,000-square-foot project that adds clinical patient care space and education and innovation areas. Professional services include primary care and pediatric clinics, eye health and contact lens clinics, low vision rehabilitation and research clinics, telemetry centers, outpatient eye surgery centers, and research facilities dedicated to eye imaging research and biomedical sciences.
HOK will work with Dr. Stanley Woo, Dean of the School of Optometry and Visual Sciences, to design the facility to have a positive impact on local and national patient care and health training by creating space for the next generation of clinicians and researchers. HOK's design team also included consultant Chris Downey, who lost his sight after removing a benign brain tumor. As an expert in developing environments for the blind and visually impaired, Downey brings a unique and important perspective to the project. These environments are multi-sensory and do not place one feeling above or biased towards others .
Project details:
Institution Name: Waterloo Eye Institute
Location: Waterloo, Ontario, Canada
Estimated completion date: 2024
Owner: School of Optometry and Visual Sciences, University of Waterloo
Total floor area: 67,000 square feet
Total construction cost: Not applicable
Cost/m²: Not applicable
Architect: HOK
Interior designer: HOK
General contractor: Not applicable
Engineers: MCW (Mechanical, Electrical, ICAT, Energy Modeling and Sustainability Analysis), Responsible Jewellery Council (Structure)
Builder: Not applicable
Consultant: Blind Building