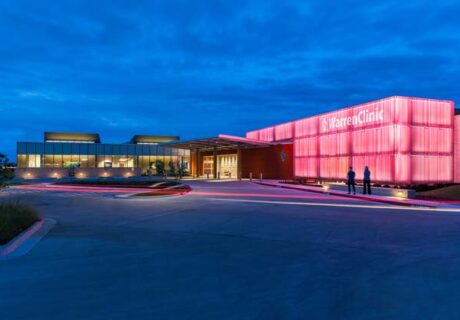 Warren Clinic
Merit Award-2021 Healthcare Design Showcase
CallisonRTKL collaborated with Saint Francis Health System to design and brand their outpatient model and experience. Our team has developed a modular clinic prototype design that takes the traditional model from the inside out and makes it easy to adapt to different locations around Tulsa in various configurations.
Taking advantage of this modular design, the unique on-stage/off-stage approach promotes collaboration through a comprehensive employee "family team" area, while providing patients with privacy and breathing opportunities—enhancing the experience for all users. On the stage, visitors enter the clinic into the gallery space and are escorted to the scattered waiting areas outside each examination room. Under the stage, an employee family team area was created for collaboration, allowing employees to directly enter each examination room, maintaining independence from visitors, and ensuring maximum protection of patient privacy and efficiency. In addition, this onstage/offstage approach reduces the risk of unnecessary interactions between patients that are common in typical group waiting room concepts—an important consideration in today's healthcare design.
Using natural light as the main driving force, the modular approach maximizes the visual access to the external courtyard and light for visitors and staff. "Light from above" is the theme throughout the design. From the moment visitors enter the clinic, they will receive daylight through the well-lit gallery area. Once visitors arrive at their examination room, they either sit down outside the examination room or enter the examination room accompanied by an escort. When sitting outside, they can directly see the outside through the floor-to-ceiling glass wall. In each examination room, natural light enters through the skylight above. In the discreet home team area designed for employees, natural light fills the space through the two skylights above and runs through the entire space.
A key goal of the Warren Clinic is to establish and strengthen connections with the St. Francis Health System brand in communities that may not yet exist. The Warren Clinic brand is strengthened by incorporating a pink glass wall, which is an element that people can recognize and participate in when approaching the site. As a beacon that glows at night, the traditional wall strengthens the connection between the clinic and the community it serves.
"The new on-stage/off-stage model works well, improving staff efficiency and everyone's satisfaction. We have received positive feedback from patients on the level of space peace; they like to be exposed to natural light throughout the process. The clinic design and the new model enable Our team is able to provide a higher level of care to patients in our service area through northeastern Oklahoma," said Colin Henry, vice president of the Warren Clinic.
Item category: New
General Manager: Jake Henry Jr., President and CEO of Saint Francis Health System
company: Carlison RTKL, www.callisonrtkl.com
design team: CallisonRTKL (master planning, architecture, design and planning, interior design)
Total construction area (square feet): 14,642
Construction cost/square foot: 362 USD
Total construction cost (excluding land): USD 5.3 million
fully: February 2018