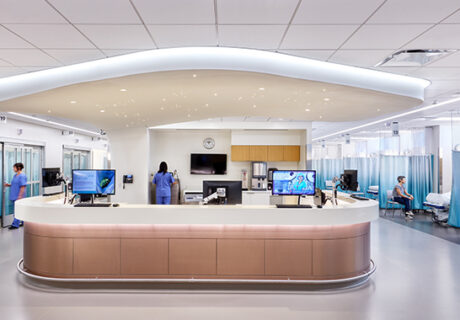 Photo Tour: Cedars-Sinai Advanced Health Science Museum Outpatient Surgery Suite
The outpatient surgery suite is located in the existing Advanced Health Sciences Pavilion building in Cedars-Sinai, Los Angeles. It is a new tenant improvement project covering 45,000 square feet on the 4th floor. The suite includes 13 operating rooms (OR), 16 preoperative workstations, 17 post-anaesthesia care unit (PACU) stations, aseptic processing and related support spaces.
The new facility achieved several goals. The first is to improve the patient care environment, in part by integrating advanced technology into the new operating room suite. It has also improved operational efficiency by integrating the number of surgical service points in the hospital. Finally, the new building freed up Cedars-Sinai's existing surgical space to meet other needs.
Taking lighting as the main design element, Chief architect (Los Angeles) Use natural and artificial strategies to create a healing and relaxing environment. Entering the fourth floor, there is a reception desk under the starry ceiling to welcome patients and visitors. In the waiting room, the skylight adds sunlight.
Natural light is most noticeable in the area before and after surgery. Before the patient enters the operation, daylight is filtered through the skylight above the medical ceiling unit. Surgeons and patients enter the operating room from the peripheral corridor, and natural light enters the operating room through the windows in the scrubbing area. Each 500-square-foot operating room is technically designed to allow the broadcast of surgical operations in the building or around the world.
As part of the Cedars-Sinai Medical Center's surgical master plan, the new outpatient suites are dedicated to multiple specialties. It combines the complex technical and functional requirements of healthcare projects with a peaceful environment with dignity for patients, visitors and employees.
Project details:
Facility name: Outpatient operating room of Advanced Health Science Center
Location: Beverly Hills, California
Completion date: August 2019
Owner: Cedars-Sinai Medical Center
Total floor area: 45,000 square feet
Total construction cost: confidential
Cost/Sq. ft.: Confidential
Interior architect/interior designer/medical planner: CO Architects
General Contractor: Hathaway Dinwiddie
Mechatronics/Structural/Acoustic Engineer: ARUP