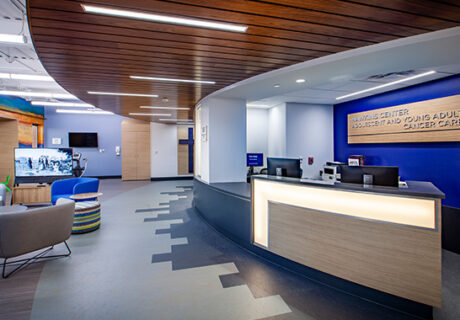 Photo Tour: Bon Secours St. Francis Juvenile and Youth Cancer Center
The downtown Bon Secours St. Francis in Greenville, South Carolina recognizes that teenagers and young adults who are struggling with cancer often do not receive treatment and hospitalization that match their developmental needs at critical stages of their lives. Children's hospitals and adult oncology wards isolate them from the world and receive the same medical care as young children or the elderly.
Under the guidance of the patient advisory committee and through exploratory patient-caregiver feedback meetings, the architect Macmillan Pazdan Smith (Greenville, South Carolina) embarked on the renovation of a first 26-bed medical oncology unit to meet the unique needs of this population. As a result, the Bon Secours St. Francis Adolescents and Youth (AYA) Cancer Center is designed to meet the unique needs of adolescents and young cancer patients.
The design team first created a public/private dichotomy familiar to any family, separating the nursing space from the social-centric space. This helps patients feel more comfortable when interacting with their peers in an open, welcoming living area designed to help them decompress and connect with each other. A local muralist turned the entire wall into a distant view of the nearby Blue Ridge Mountains. The decoration around the center incorporates photography of the local natural environment.
Game rooms and gathering areas with musical instruments and laptops have also been added to promote the community and encourage social interaction, helping adolescent patients feel like teenagers during their hospital stay. The enhanced user environment control system, circadian rhythm lighting, extensive seating options and technology shape the personal end user experience to create a treatment experience different from most sterile clinical environments.
The nurse workstation is hidden in the reception area at the entrance, allowing nursing staff to quickly enter the other parts of the hospital, while separating the clinical space from the social space, and guiding guests to enter the central "living room" more deeply. This expansive central area provides soft furnishings and modular seating, family restrooms, gathering areas and play areas for families with young children. The kitchen area on the side of the living room complements the hospital's food preparation capabilities and is converted into a private dining room when needed. The four wards are set on both sides of the central area, creating additional visual and psychological separation between treatment and social interaction. The warm, inviting aesthetics and natural landscape help connect the treatment room to the overall experience.
Project details:
Facility Name: Bon Secours St. Francis Juvenile and Youth Cancer Center
Location Greenville, South Carolina
Completion date: August 2019
Owner: Bon Secours St. Francis Health
Total floor area: 2,160 square feet.Refurbish
Total construction cost: $719,000
Cost/sq. ft: 332 USD/sq. ft.
Construction company: McMillan Pazdan Smith Architecture
Interior design: McMillan Pazdan Smith Architecture
General Contractor: Trehel Corp.
Engineering: Reece, Noland & McElrath Inc. (MEP), Forma Structural Consulting (structure)
Builder: Trehel Corp.