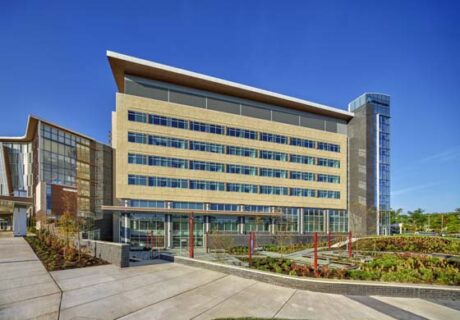 Jefferson Health Cherry Hill Hospital Expansion
Jefferson Health hired global architecture and design company CallisonRTKL (CRTKL) to provide design services to expand the medical system at its Cherry Hill campus. The new inpatient bed tower complements the 230,000 square feet of the existing hospital, adding 90 wards, diagnostics, pharmacies, surgical services and public spaces, including cafeterias, outdoor dining rooms and rehabilitation gardens. The bed tower was completed in November 2020. It is the realization of the modernization goal of Jefferson Health's campus. It is designed as the flagship building of Jefferson Health New Jersey. The new patient tower will be connected to a five-story atrium lobby, making it easier to enter the new medical building.
During the initial design phase of the expansion, CRTKL conducted a study to standardize the wards and care units of Jefferson Health System. CRTKL uses virtual reality to conduct a week-long physical and virtual ward model to collect feedback from employees on the room design. The resulting design promotes improvements in nursing practice, and the result is a shared vision between employees and caregivers. The new tower is located along Church Avenue and serves as the main entrance to the campus-displaying a unique characteristic staircase and external lighting as a visual sign that invites visitors to enter the campus. The outdoor dining area and rehabilitation garden are the connection points between the building and the Cherry Hill community. These spaces are organized around a well-lit, winding path, providing group seating, private reflection spaces and private "outdoor rooms" for employees and visitors.
Item category: New
General Manager: Lisa Dutterer, Chief Administrative Officer
the company: Carlison RTKL, www.callisonrtkl.com
design team: Chris Pundzak, assistant; Tamra Green, vice principal; Gabryela Feldman, senior assistant; Sarah Dickert, senior designer; Mark Palmer, vice principal; Ray Brower, principal
Total construction area (square feet): 230,000
Construction cost/square foot: USD 557
Total construction cost (excluding land): $128 million
fully: December 2020