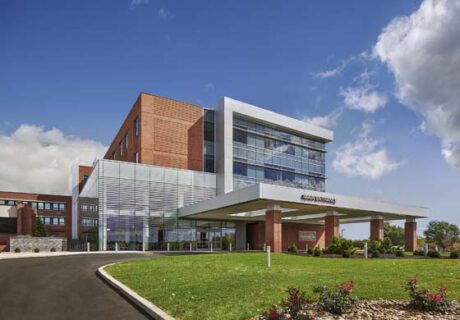 Evangelical Community Hospital
Finalists – 2021 Healthcare Design Showcase
CallisonRTKL partnered with the Evangelical Community Hospital (ECH) in Lewisburg, Pennsylvania to revitalize the existing community hospital with a new landmark bed tower. Through the Ward Improvement, Modernization and Enhancement (PRIME) project, we have created a modern space that uses natural light to define wayfinding through a series of courtyards and openings, guiding users through the new tower to the existing hospital.
The ECH PRIME Tower represents an opportunity to modernize the facility and bring the community back to the hospital with a new brand and patient experience. The goal is to seamlessly connect the new tower with existing facilities, provide expanded patient services, and establish a long-term relationship between the community and the hospital. The new tower is connected to the existing hospital at two locations to connect to the existing traffic, while the remaining footprint is preserved to create a courtyard along the main promenade.
The narrow floor allows the light to penetrate deeper into the patient's floor, reach the clinical support core, and connect the staff to the outside. Choose light colors, neutral colors and reflective colors to make the light penetrate deeper into the core support area of ??the floor and increase the ambient lighting. Wood was introduced to compliment the view of the landscape courtyard along the large glass windows along the ground floor promenade and public facility spaces. The black steel details of the entire facility refer to the environment of central Pennsylvania and are used as wayfinding points for tourists. Colors are introduced through the selection of furniture and large custom wall graphics along the promenade, patient floor, and treatment space. The underlying graphics are a unique artist interpretation of the local landscape commissioned specifically for the project. The graphics on the patient floor are selected by the nurses who serve the unit and provide a unique identification for each department.
In the new building, the landscape of the existing campus has been carefully selected to maintain a familiar frame of reference for the community. The movement through the new space is arranged and enhanced through strategically placed openings and landscaped courtyards to experience the fusion of the old and the new.
In order to provide future flexibility, a switchable negative pressure chamber was added near the isolation room during construction. This creates several rooms that can be activated as demand increases in emergency surge conditions. The lobby and conference center are also very flexible in design and used to host community events focusing on population health and wellness. Adaptive design is now playing a very important role as a mass vaccination spot in the community.
Item category: New
General Manager: Kendra A. Aucker, President and CEO of Evangelical Community Hospital
the company: Carlison RTKL, www.callisonrtkl.com
design team: CallisonRTKL (architecture, medical planning, interior design, medical equipment planning, construction management)
Total construction area (square feet): 130,000
Construction cost/square foot: $427 (new); $300 (renovated)
Total construction cost (excluding land): US$51.2 million (new); US$3.6 million (renovation)
fully: September 2020