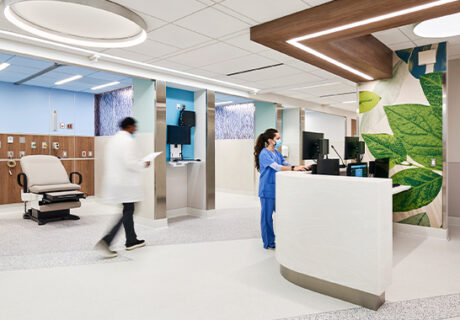 Photo tour: Guggenheim Emergency Room Rapid Medical Assessment Team at Sinai
Mount Sinai Hospital in New York hopes to create a facility that supports the new workflow and represents a new future for providing care to the aging Mount Sinai Emergency Department (ED). The project includes implementing rapid medical evaluation (RME) units, increasing the number of isolation rooms, and integrating departments to increase hospital beds.
E4H (New York City, New York) is providing design services for the new emergency room of the Guggenheim Pavilion at Mount Sinai Hospital. The project involved a five-year multi-stage renovation and expansion to modernize the 30-year-old existing ED.
In the first phase of the project, a 7,500 square foot RME unit was created to determine the patient's acuity level and treat patients with low acuity in the unit. The goal of this triage method is to diagnose and treat patients with low vision faster, enable the emergency department to focus on more severe patients, increase the bed capacity of the emergency department, and reduce overall waiting time.
Other stages will include the integration of management space to create more space for patient treatment, and the expansion of the existing CT/X-ray room (including equipment upgrades) will accommodate more patient groups.
Project details:
Facility Name: Guggenheim Emergency Department Rapid Medical Assessment Team, Mount Sinai
Location New York
Completion date: March 2021
Owner: Mount Sinai
Total floor area: 32,000 square feet
Total construction cost: confidential
Cost/m²: Confidential
Construction company: E4H Environments for Health
Interior design: E4H healthy environment
Contractor: Hunter Roberts Construction Group
Engineering: Vanderwell Engineering