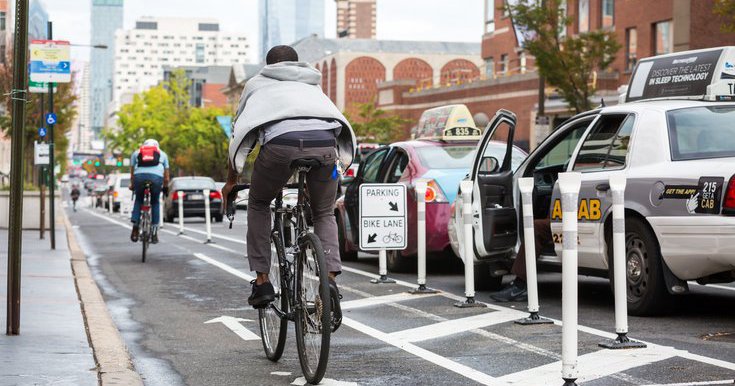 Bike lane improvement project begins in Philadelphia
The Philadelphia Street Department took a new initiative this week that will surely be popular with cyclists throughout the city.
New Town Construction Weaving Network Project Started this week as part of an effort to strengthen cycling options across Philadelphia's streets.
The project involves adding, upgrading or reconfiguring bicycle lanes by installing sidewalk markings and flexible contour markers on various roads in the city.
The specific improvements and roads included in the project are as follows.
•A parking-protected bicycle lane on Race Street from 8th Street to 6th Street in the Old Town
• Holmsburg's Pennypack Creek Trail, a protected bike path along Torresdale Avenue
• A paint-buffered bike path along North 13th Street from Spring Garden Street to Green Street in Callowhill
• Green back shadow and edge line from Lehigh Avenue to Girard Avenue on North 15th Street in North Philadelphia
If the weather permits, the work plan is carried out during the day and may involve the closure of single lanes. As more cyclists take to the streets in warm weather, the project is expected to be completed in early summer.
The network weaving project is the last part of the multi-year fund. The project is worth approximately US$500,000 and is funded by the Multimodal Transport Fund and Automatic Red Light Fund of the Pennsylvania Department of Community and Economic Development.
The project is just one of several recent efforts the city has taken to improve the cycling options of Philadelphia cyclists and to separate cyclists from motorists on the road.
Earlier this week, the city Announcement of public comment procedures on recommendations for improving traffic safety Follow the 6-mile-long Chestnut and Walnut streets in West Philadelphia.
City officials proposed to add a buffered or parking-protected bicycle lane along Chestnut Street from 45th Street to 63rd Street, and to transform the bicycle lane into a parking-protected lane from 22nd Street to 63rd Street along Walnut Street.
The city also added a protected bicycle lane from 34th to 45th Street in the redesigned Chestnut Street. The redesign completely eliminated bicycle-related collisions within 11 blocks along Chestnut Street.
The city's knitting network project also followed Cyclists have entered the vehicle-free Martin Luther King Avenue During the COVID-19 pandemic.However, motorists Expected to return to the highway for the first time in nearly 18 months In August of this year, cyclists were forced to find new roads and trails to ride.