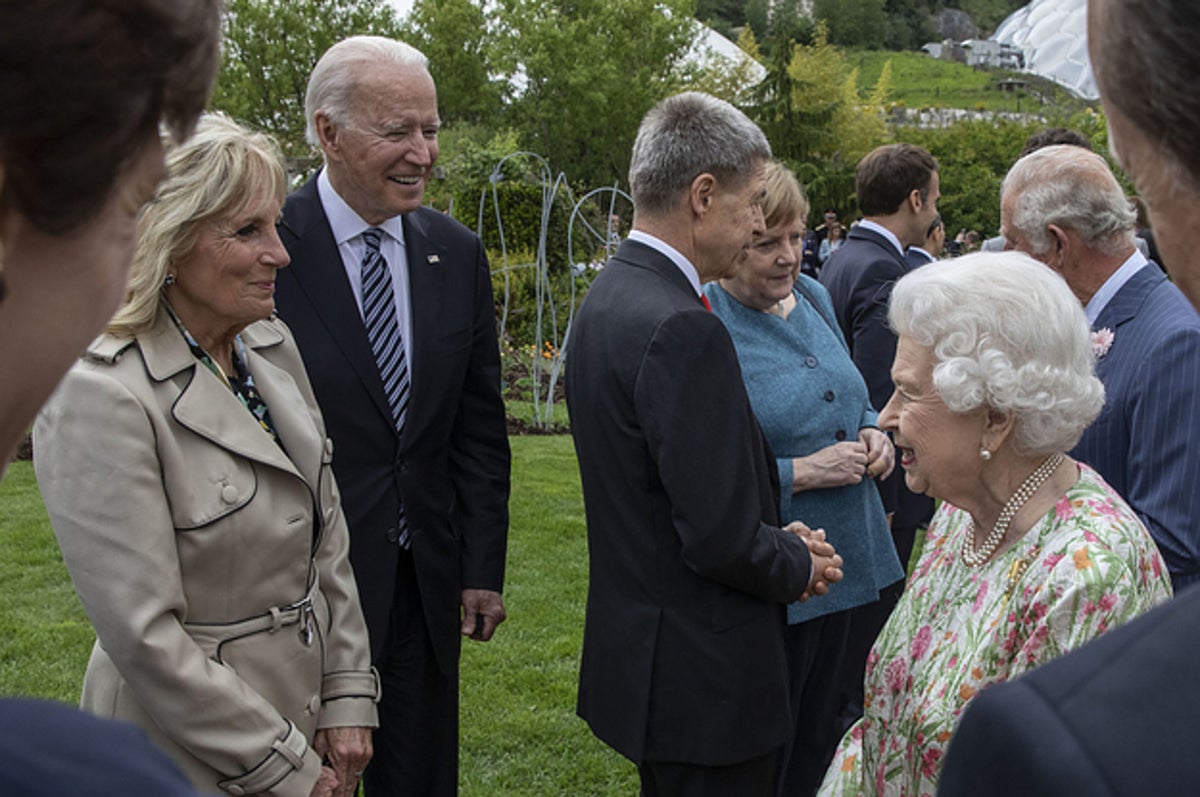 Joe Biden meets Queen Elizabeth II at the G7 meeting
President Joe Biden met with Queen Elizabeth II in the UK on Friday-this is his first meeting with the British monarch as commander-in-chief.
The President, accompanied by First Lady Jill Biden, was photographed chatting with the Queen at the head of state event at the G7 summit in Cornwall.
The photo shows the queen wearing pearls, white gloves and a floral dress, while talking to the first lady outside the huge dome of an ecological park called the Eden Project, smiling warmly and the leaders gathered there for the dinner .
Biden is the 13th American president to meet with the Queen, whose reign began in 1953.
The 95-year-old monarch met with every American leader during her reign, except Lyndon Johnson.
Her first meeting as a queen was in 1957 with Dwight Eisenhower, and that same year, she met Herbert Hoover more than two decades after he left the White House. In 1951, when she was a princess, she also met Harry Truman.
Biden had previously met the Queen when he was a U.S. Senator in 1982.
Friday's meeting was held two months after the queen lost her husband. Prince Philip died on April 9 At the age of 99.
Also attending the G7 event were Prince Charles from the British Royal Family; Camilla, Duchess of Cornwall; Prince William, Duke of Cambridge; and Catherine, Duchess of Cambridge.
In the photo, British Prime Minister Boris Johnson can be seen talking with Ursula von der Lein, President of the European Commission, while Canadian Prime Minister Justin Trudeau is talking with Prince Charles.
Friday was the first full-day meeting of the summit. Johnson told those present that it was an opportunity to "upgrade in our society" and "rebuild better". Coronavirus pandemic.
He also said that leaders need to address economic inequality and climate change.
"I actually think we have a huge opportunity because, as the G7, we are united in our vision of building a cleaner and greener world and addressing climate change issues," he added.
Before the evening reception, the Queen posed for a photo with Biden and other world leaders. She asked them, "Should you look happy?"
"Yes," Johnson replied. "Although on the surface, we always enjoy it."
The Bidens will visit Windsor Castle on Sunday for a special private meeting with the Queen.