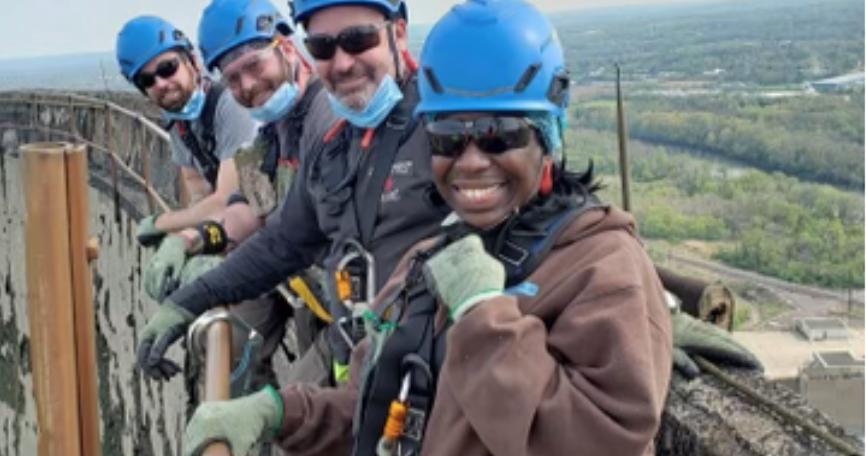 The first female electrician of IBEW Local 98 members climbed Limerick nuclear power plant cooling tower to install new aviation lights
Elaine McGuire, a member of IBEW Local 98, a District 1 electrician with 22 years of experience, recently accepted the challenge of climbing a large cooling tower at the Limerick nuclear power plant to install new aviation lights.
The cooling tower project includes climbing to the top of 510 feet, Elaine and a IBEW local 98 The experienced electrician team in the north had to replace the existing beacon aviation lights. Elaine McGuire is a resident of Broomall, Delaware County. She is the first female electrician in union history to undertake and complete this difficult task.
"Elaine McGuire won her colleague at the Limerick Nuclear Power Plant and the entire IBEW local 98 IBEW Local Business Manager John J. Dougherty said: "As the first female electrician to perform such a daunting but vital task, we become a member. On behalf of the IBEW Local 98 leadership team, we congratulate Elaine on her milestone achievement."
Cindy Ortman, Elaine's old friend and a female craftsman colleague of Glaziers Local Union 252, added: "Elaine has been a great role model for women in the Philadelphia construction industry for many years! I respect her very much. !"
As far as she is concerned, Elaine McGuire finds this high-profile job memorable, and she will start all over again.
"In this experience, I never felt scared once," she said. "There used to be For a moment on the first day, when I climbed the tower from straight to the tower to suddenly facing the horizon, I was awed by the wide view at such an extreme height. Although I have never worked at that height before, I would definitely do it again if asked. I feel very honored to be the first woman in Local 98 to perform this task. "