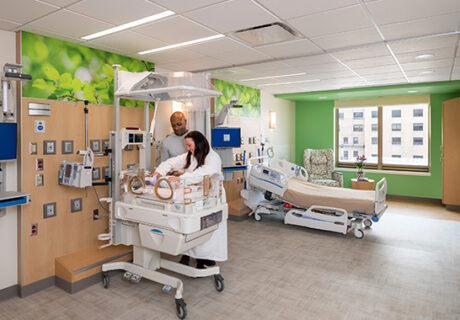 Photo Tour: HSHS St. John's Children's Hospital
The new neonatal intensive care unit (NICU) at the Hospital Sister Health System (HSHS) St. John's Children's Hospital (Springfield, Illinois) will more than double the space of the 56-bed facility. The facility is the only Level III Intensive Care Unit (NICU) in the area, recruiting patients from 39 counties in central Illinois, some of which must make decisions about taking care of other children and working from home and the long distance from the newborn .
The foundation of the project is rooted in the principles of evidence-based design (EBD): the sooner and more fully the family is integrated into the infant's recovery, the better the outcome. Before designing the facility, the EBD workshop measures specific indicators in the old and new environments to support this premise, in particular the number of hours the family spends with the baby before being discharged from the hospital, the average length of stay in the hospital, and the readmission rate.
The project started in March 2021 and aims to prioritize family-centered care. It has private rooms that can support families staying overnight, which was not feasible in previous pod-style spaces. In addition, the department also provides a mixed care model with three branded care team neighborhoods and a milk laboratory, where milk technicians can fortify breast milk or formula milk with additional nutrients for each patient.
HSHS St. John's Hospital will provide couplet care for the first time, bringing the mother and the baby in the intensive care unit to the same room while the mother is still in the hospital for postpartum recovery. The premise of the couplet concept is that by promoting direct skin contact and the beginning of breastfeeding, the parent-child bond is accelerated, and ultimately a better outcome for the baby.
Aesthetically speaking, make sure that the design is attractive to the entire family. Thoughtful attention was paid to well-lit care spaces and corridors. The clean and bright interior is coupled with simple shapes, bold pop colors and custom plant patterns. These elements support wayfinding and help emphasize smaller communities throughout the floor.
The future phase now underway will include home facilities, including lounges, kitchens and bookable overnight suites.
Project details:
Facility Name: HSHS St. John's Children's Hospital
Location: Springfield, Illinois.
Completion date: March 2021, the first phase; the second phase, October 2021
Owner: Hospital sister health system
Total floor area: 36,600 square feet (renovated)
Total construction cost: $11 million
Cost/square foot: $300/square foot
Construction company: Kahler Slater
Interior design: Kahler Slater
General Contractor: O'Shea Builder
Engineering: Korda / Nemeth Engineering
Manufacturer: O'Shea Builders