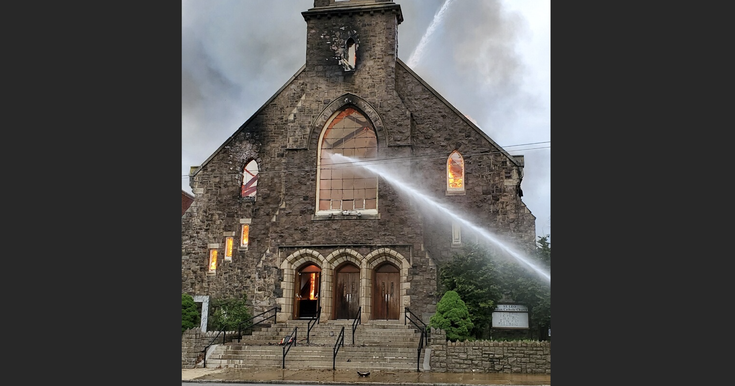 Philadelphia ATF offers a reward of $20,000 to burn St. Leo's Church by fire
Investigators from the Bureau of Alcohol, Tobacco and Firearms said Thursday that the fire that destroyed the historic San Leo Church in northeastern Philadelphia on Sunday appeared to be "burning in nature."
The agency will offer a reward of $20,000 to reward those who provide information to convict anyone who caught fire in the 135-year-old building. The Philadelphia Police and the Philadelphia Fire Marshal's Office are assisting in the investigation.
Churches on Keystone and Unruh streets in the Tacony district of the city It caught fire around 5 o'clock in the afternoon on Sunday, Prompting more than 100 firefighters to respond to the scene. The large sparks that extinguished the two alarms took more than an hour and caused serious damage, so that the body of the building was partially demolished on Monday.
Officials said the church was unoccupied and no one was injured in the fire.
The Archdiocese of Philadelphia merged the Diocese of San Leo with the Diocese of the Dormition in 2013, but the church remained open as a place of worship until it was permanently closed in early 2019.
according to Catholic Philadelphia, The church building was sold last month to buyers who planned to use it as a leased place for religious purposes.
Designed by architect Frank R. Watson, the building was added to the historic sites of the Philadelphia History Council in 2019.
Anyone who knows about the fire should call ATF-TIPS at (888) ATF-TIPS or email them [email protected] Reminders can also be sent online and anonymously to the Philadelphia Fire Chief's Office.