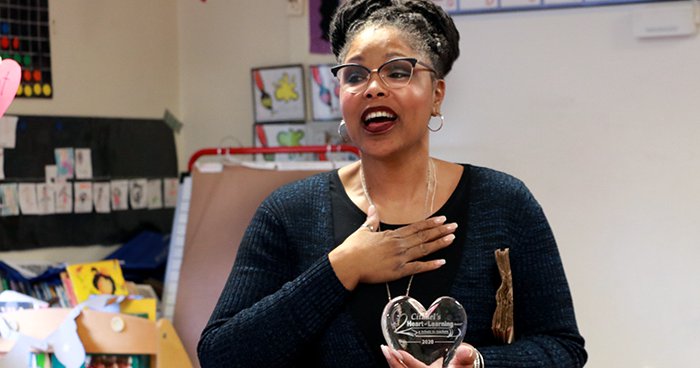 21 teachers from Greater Philadelphia won the Castle Learning Heart Award
Make a difference in a school year Castle Credit Union Enhance educational strength by awarding the "Learning Heart Award" to 21 local teachers. Teachers from Bucks, Chester, Delaware, Lancaster, Montgomery, and Philadelphia counties were recognized after being nominated by students, peers, parents, and administrators.
This Castle Learning Heart Award, Is one of Citadel's longest initiatives, and 20 years ago with

Chester County Intermediate Force

(CCIU) to recognize teachers who have shown dedication both inside and outside the classroom, and truly surpassed their role as educators.
There is no doubt that this year has brought countless challenges to teachers and schools everywhere. Since many teachers need to adjust the entire curriculum structure, teach without face-to-face contact, and step out of the comfort zone to help students on an academic and personal level, this epidemic becomes particularly important, and it is important to recognize their dedication .
Since this week is "Teacher Appreciation Week", Castle Credit Union Proudly announce the 2020-21 district and county winners.All 21 teachers will receive the "Glass Heart Award" and spend $500 in class, and Live Facebook ceremony at the castle On May 20th, at the awards ceremony, three grand prize winners will be announced, and each winner will receive an additional $1,500 in prize money and colorful award glass hearts.
View the winners:

Chester County Regional Winner
• Avon Grove: Stephanie Shrake, Avon Grove High School
• Cotsville: Breanna Kriston, East Fallowfield Elementary School
• Downing Town: Kathleen Cool, Uchilan Mountain Primary School
• Big Valley: Amy Hober, KD Markley Elementary School
• Kennett merger: Dian McKinney of Kennett Middle School
• Octala: Robin Lewis, Octolara Intermediate School
• Owen J. Roberts: Lisa Cunningham, East Vincent Elementary School
• Oxford: Oxford High School Nicole Wiltrout (Nicole Wiltrout)
• Phoenix city: Michelle Sinnamon of Manavon Elementary School
• Tredyffrin-Easttown: Allegra Dotson, New Eagle Elementary School
• Gemini Valley: Elizabeth Techman of Twin Valley Elementary School
• Yuninville: Lauren Osley (Charles F. Patton Middle School)
• West Chester: Fogt Middle School Frank Nefos (Frank Nefos)
• Non-public schools: Jane Brennan, St. Joseph's Elementary School
• CCIU: Jessica Jakatt, Chester County Learning Center
County winner
• Montgomery County: William Norman, Norristown Regional High School
• Delaware County: Andrea Brown, Ridley High School
• Lancaster County: Jerry Guttman of Mannheim Town High School
• Philadelphia County: Jamie Johnson, Philadelphia Children's Hospital School Project
• Bucks County: Elizabeth Baker (Maple Point Middle School)
Traci Watson Heart Award
In order to continue to expand the program and attract more teachers, Citadel added the Traci Watson Heart Award. This is a special award to commemorate a well-loved colleague of Citadel who plays an indispensable role in Citadel every year.

Castle Learning Heart Award Program. The award recognizes thoughtful creativity, inspiring nature and dedication to craftsmanship.Castle recognition Eli Andrus, art teacher at Beaver Creek Elementary School
Won the first Traci Waston Heart Award.
The "Heart of the Castle" learning awards ceremony will be held on Facebook on May 20th (Thursday) from 6:30-7:00 pm.Learn more and register


Here. Stay tuned for the latest news of the grand prize winners!
To view the full list of nominees and learn more, please visit CitadelHeartofLearning.com
Featured nominations
"In a world full of uncertainty, this teacher's support means everything to me and my daughter."

Read the nomination by Lisa Cunningham, winner of the Owen J. Roberts School District's "Learning Heart Castle Award".

"She helped all students feel comfortable in the virtual environment immediately and worked hard from the beginning to establish connections between students and foster a classroom culture."

A parent from Dagu School District wrote Amy Hober from KD Markley Elementary School.

"Mr. Andres has demonstrated the significance of being an excellent educator and responding to challenges with a positive attitude. In this unprecedented period, he continues to bring much-needed stability (and laughter) ),"

A parent in Downingtown wrote about Eli Andres, the art teacher at Beaver Creek Elementary.

"Mrs. Brown has adapted to the virtual classroom, like a duck in the water. She spends a lot of time outside the classroom on virtual presentations, games and TikTok videos to keep students in the classroom engaged. She has also established Google with other teachers Meets, so that they have a better understanding of the new virtual classroom; so that regardless of their grade level, their classroom will be ready that day,"

Said the parents of Ridley High School Delaware champion Andrea Brown.
---
Learn more about the Castle Learning Heart Award