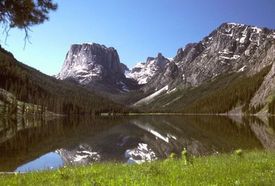 Jasper WY Family of 3 Killed in Wind River Mountains Plane Crash
12/28/2010 // West Palm Beach, FL, US // Sandra Quinlan // Sandra Quinlan
Jasper County, WY—A Jasper family of three was killed when the small plane they were occupying crashed in the Wind River Mountains on Dec. 24, 2010. According to the Lufkin Daily News, the National Transportation Safety Board (NTSB) is investigating the Christmas Eve plane crash.
Reports indicated Ralph Day, 52, was piloting a single-engine plane when it crashed in the mountains for unknown reasons. A commercial plane apparently picked up an emergency locator transmitter signal from the downed aircraft and reported the aviation accident to officials.
Day's 1998 Commander AC 11 aircraft took off from Loveland, Colorado and was en route to Jackson, Wyoming when it went down approximately 15 to 20 miles southwest of Lander.
Ralph Day, along with his wife, Doris, 52, and son, Connor, 12, were all killed in the plane crash. Day is a member of the Experimental Aircraft Association Chapter 1219, which has about 80 members.
According to EAA president Don Lymbery, "He loved to fly kids… He was a super guy, and a very careful and exacting pilot. I never saw him do anything out of line. It could have been several things that happened up there on that mountain but who knows."
"When NTSB does their investigation, we will find out. But Ralph didn't make mistakes," Lymbery added.
A full investigation into the Wyoming plane crash was expected to be underway.
Legal News Reporter: Sandra Quinlan– Legal News for Wyoming Aviation Accident Lawyers.
Media Information:
Address:
Phone: (866) 598-1315
Url: Sandra Quinlan: West Palm Beach Injury News