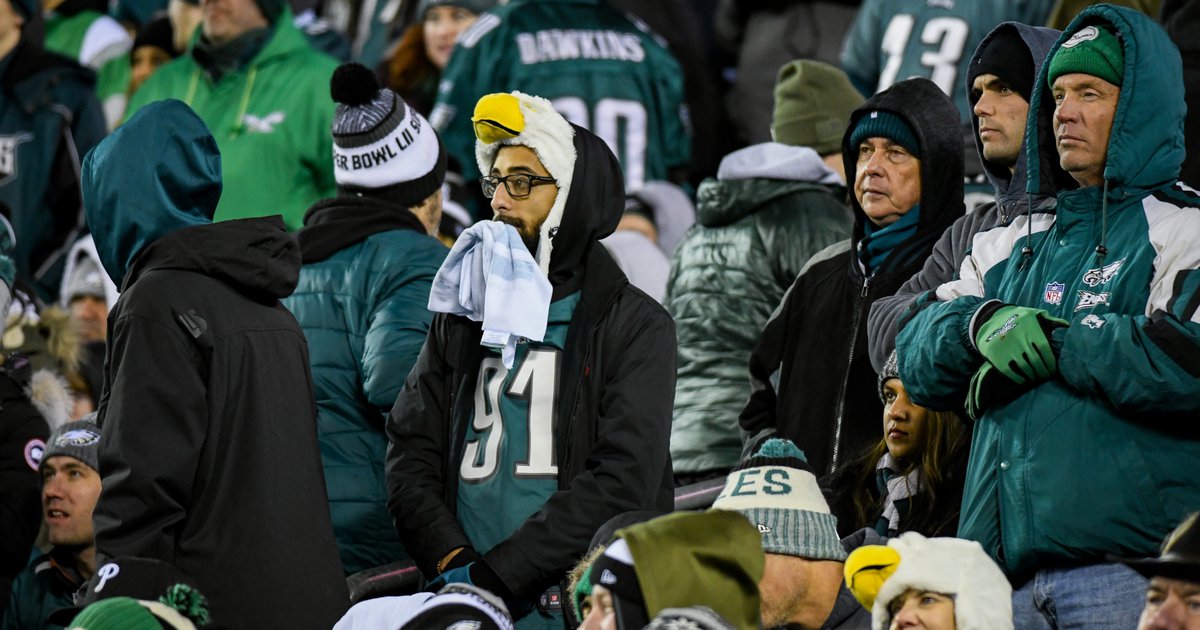 Eytan Shander: Why is everyone afraid of the Hawks this season?
reconstruction. Retooling. This is a year of transition.
No matter what your name is, this is a brand that we can admire in the upcoming season, "without confidence".
Yes, guys. Since Chip Kelly last year, the Philadelphia Eagles have the lowest level of confidence entering this season. Consider how different things are between people, how often you use terms like "uncertain" and "not needed", and how much you dislike Kelly himself.
Nick Sirianni was obviously not like that, and he shouldn't even be labeled near the monster. This does not mean that the team does not have zero confidence in his long-term capabilities. Why do they do this? He just got here. Due to the circumstances, the new head coach and many others have fallen on the basis of the trust tree. They didn't even climb the trunk.
The half-vote/half-vote promise to Jalen Hurts should not be missed. He is their quarterback, but he still has to compete for his job. However, according to Sirianni, "everyone" must compete for their own work. And we know that Fletcher Cox (Fletcher Cox) can never compete for anything.
So, why use a misleading statement to justify a new mantra? Do you think the Falcons have any game skills now? of course not. Except for a few obvious players like Cox, no one else is willing to make any promises. This is the overall hesitation of the team.
With Carson Wentz's wounds still fresh, they are afraid of being scared and come out and support Hurts, because the children may not come out as quickly as they want. They are even more afraid to admit the latter, so they won't even draw attention to the possibility of using three possible first-round picks to attract top QBs.
Come out and tell us they don't know, this is a long and exhausting road. They don't even know the young players who have just arrived here, the brand new coaching staff, who have been running through people like Derrick Barnett during the contract year.
Look, the fact is, what we are in is not all the "faults" of the hawks. Not only Howie Roseman is the owner of Jeffrey Lurie. But refusing to admit it is an insult, especially for the fan base who won't linger in any way. really tired.
You must be an idiot, thinking that the Eagles are not in rebuilding mode, which opens the door and way to player uncertainty. The defensive coordinator came out last week and said he has no plans yet because he still doesn't know what he has on the court. There are so many brand new parts in this machine, which makes a lot of sense.
Which league are you watching where new coaches and players magically get together in the offseason? Mid-season? This year is a thorough baptism. This is to figure out things, because they really don't know how long this can last. They didn't really fall into anything that could hurt them, even Andre Dillard.
My problem is not that the team put so many young players on the court, including the brand new first round at DeVonta Smith, but that this is not the case. Again, if that power is new to the city and the fans, maybe-maybe-I can reduce their slack. I'm sure Josh Harris is worried about Sam Hinkie's plan (once someone like a 5-year-old boy explains the plan to him), so I can conclude that this may be the case here.
It's not. That's far away.
In this city, no one knows the fans better than Lurie and Rothman. They know exactly how they will react if they come out and admit that this is a gap year. It took Rothman and his boss a year between high school and college to find themselves. The problem is, if they come out and speak up, no one will go anywhere. No one will sell tickets. No one will burn their "Rosman" jerseys.
The biggest bluff in the history of Philadelphia sports will be the appearance of the Eagles this year and tell fans: "Hey, this is a big gap year. We don't know what will be done this year." Dare to let fans sell tickets, PSL and they own it. Any other items.
They will not.
Instead, even though there are too many signs in front of us, we will still tip our feet on what this season is or may become. If the owner of the Eagles wants to take a year off and backpack or write a script in Europe, please let us know. As a result, there are thousands of people waiting for anyone to take bail. Refreshing changes will take place in the front desk's attitude towards us.
"Mother of East City"
[Warning: Potential spoilers below for Episodes 1-6.]
We have reached the last episode of the HBO limited series, and I want to review our previous thoughts. The series is very good. Better than Nicole Kidman's cruel performance, and better than Bryan Cranston's "Your Honor."
too slow
To quote a well-known divorce lawyer on the radio, "But it's okay." The work has become the real star of the show, which is great because it shifts the focus from mandatory stress. Kate Winslet is solid, as is the supporting role in the show. The rhythm of episode 6 slowed down again, especially after the tragic scene of captives, escape and death ended in episode 5.
The play is at its best when developing characters. When time is not well managed and runs through the plot, it will struggle. There is no reason why we need two separate suspense to enter the final episode. The program has been set up in the previous week. They can't expect people to react to this photo and take us to Billy twice and become suspects.
I continue to be impressed by how easy the dialogue in this show is, partly because of the performance, and partly because of the writing. You might take it for granted, but it is not easy to write when we are talking and even when we think we are talking. "The Telegraph" finally mastered how to capture the true essence of the dialogue, specific to who is speaking and the culture they represent.
---
---
Emotions are not easy. After Katie came back, Mare and Dawn hugged tightly. It was not easy for us either. This is the best time to perform, although it will not be memorable. Maybe I have been with Barrett Brooks too much, but that scene is the unsung hero of the show-the offensive linesman, if you will.
There are many ways to force it, make it look like Hollywood, or make it cold and sterile. Instead, we got something that could have been improvised-clumsy, difficult and natural.
Unfortunately, the ending of episode 5 is the most watched action of all our series. I am not complaining that we have not seen more bloodshed, but the way they presented this bloodshed.
Although it's hard to think that the dark bar is not in the picture at all-like the poker game cited by Katie-we still have a quick ending. That ending is also a line-by-line tribute to the "silent lamb".It's hard not to Two; think about how hurried the ending is and how much effort the writer has put into it. They didn't even "re-equip" it!
This is the weirdness of this show, because I sit here before the finale, and I really don't know: I don't know which direction the show will go in on Sunday night. Are we going along the path of "undo"? Everything is not as simple as it seems, right? But it turns out to be the case. "Hey, that's the little ball we've been thinking about!" There is almost no lasting satisfaction in the abdomen.
I still can't get rid of the absurd stupidity of the plot arc, let alone the helicopter scene at the end of the series.
Another way for "Mare" to end is that Johnny kills Billy and kills him because we were buried by people with ridiculously obvious signs. Billy was just protecting something bigger, maybe his brother, or a ring outside the bar. I hope I am wrong. This is the third option. It probably involves Lori or Dylan (too obvious), but I did it wrong before, just take a look at some of my betting suggestions.
Central with Brook, Mayes and EYTAN-Best of the Week
We started talking this week about the NBA playoffs, Joel Embiid, 76ers, LeBron, Russ out, and about 50 things from the weekend.
Please like, subscribe and share on JAKIB media YouTube page
We suggest you bookmark phillyvoice.com/themiddle and grab us MF 11-1p
You can also call 800-224-2004 to contact us.
---
Follow Eytan on Twitter: @shandershow
You can listen to Eytan on The Middle with Brooks, Mayes and Eytan Right on PhillyVoice (Monday to Friday, 11 am to 1 pm) and beyond @foxphlgambler (Monday to Wednesday, 6-8pm)
Like us on Facebook: Philadelphia Sports